AToMiC: GE mines the interactive landscape
The company has launched a 3D gesture board at Toronto's Pearson Airport aimed at raising awareness around its mining business.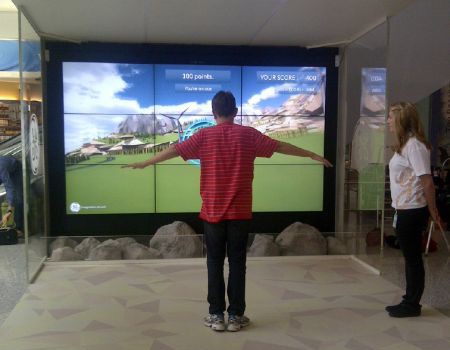 GE Canada is aiming to take awareness of its mining business to new heights with the launch of an experiential game, GE Mine Flight at Toronto's Pearson International Airport's terminal one.
Created with OMD on the placement and Germany-based agency Brandfirst creating the game which uses 3D technology and a gesture board to make players feel as though they are flying over and through a mining site using their arms outstretched like a bird, Kim Warburton, VP communications and public affairs, GE Canada, tells MiC. Players collect points in the game by grabbing icons as they travel through the landscape.
"This is the first time we have used a gesture board in Canada, and it is nicely placed in terminal one because there is a lot of traffic in that area, as well as the smaller planes that go up to the mining community going through that area," she says.
The board, which launched this morning and will be up until Nov. 11 is aimed at grabbing the attention of business people going through the airport, as well as the general public because Warburton says that while Canadians know of GE Canada, they still mainly think of the company as manufacturing lights and appliances.
What is AToMiC? AToMiC stories are about cutting-edge advertising, technology, media and content creation. The AtoMiC conference and award show is hosted by Playback and strategy magazine. Read up on the most recent winners here.