Pattison Outdoor adds two new faces
Chevrolet is the first to use the Montreal superboard and mural, which can also provide additional messaging for brands that execute events in the surrounding parking lot.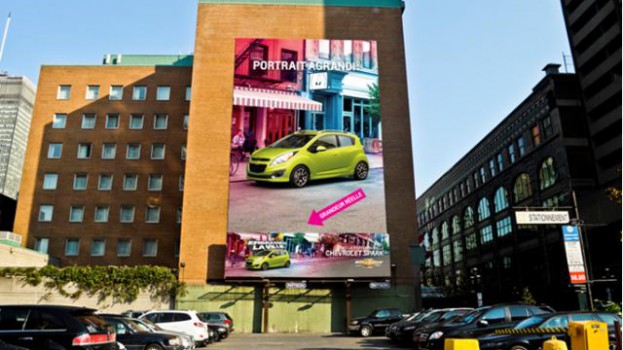 There's a parking lot in downtown Montreal that has the potential to be more than a temporary storage space for cars. Pattison Outdoor recently installed a new wall mural and superboard, placed on an adjacent building in the space, and is proposing that brands use it as a support piece for stunts in the lot.
For the next two weeks, Chevrolet will use the boards, which are located at the intersection of De la Montagne Street and De Maisonneuve Boulevard, to promote its Spark vehicle. The wall mural, which measures 60′ by 40′, features a portrait of the vehicle and the bottom 10′ x 40′ board repeats the imagery but with the Chevrolet branding.
Denis Dion, sales manager, Quebec region, Pattison Outdoor, tells MiC the new board and mural is a complement to another three boards (also owned by the media company) that surround the open parking space. "It's in an open space, which is very rare in downtown Montreal," he says, adding that brands, such as those in the auto and fashion categories, can showcase messaging on all five faces to support events like a car or runway show.
"A brand that wants to use it in a creative way can take possession and dominate the whole corner of the city. There's possibility to build an event with sampling and interaction with the customer," he explains.
Pattison owns four other murals in the French city and Dominic Laporcaro, president, general manager, Eastern region, Pattison Outdoor, says that Quebec by-laws prevent brands from placing certain creative on city walls. "The bylaw says that you have to have something very artistic, and basically, nothing that's too branded," he says, noting that the city is open to colourful and creative proposals, which is why the Chevrolet ads were given approval.
"When you're in the heart of downtown, it's not only the car traffic you're [aiming for], it's the pedestrian traffic as well," he adds. "The beauty of this board is that you're getting a superboard, which is [larger] than the traditional 10′ x 20′, and you're also right in the heart of the shopping and entertainment districts of Montreal."