Skype opens the door to mobile ads
Microsoft Advertising has launched new mobile banner ads that sit in the contacts page and in the conversation window on the social platform.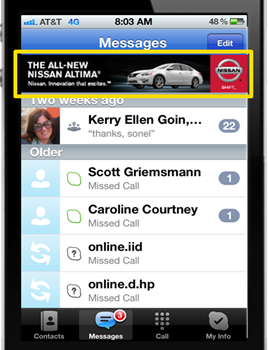 Microsoft Advertising launched mobile ads on Skype this week, five months following the introduction of the platform's "conversation ads" in Canada.
Joe Strolz, vice president, Microsoft Advertising, tells MiC the new ad units are placed in an "uncluttered brand canvas" with one advertiser at a time using the standard mobile banner that sits atop the contacts page as well as in the Skype conversation window. Microsoft Advertising is in talks with Canadian brands to place mobile ads on Skype but does not have a confirmed campaign as of yet.
Strolz notes that prior to launching the first set of online ads on Skype in June, Microsoft Advertising conducted market research in conjunction with comScore. The findings supported the move to mobile with 28% of Canadian Skype users found to be using the platform through their smartphone and an overall user base growth of 30% between March 2011 and March 2012. There are close to 5.9 million Skype users in Canada.
"What's interesting about the research is that over a quarter of Skype users declared being interested in connecting with brands through Skype," he says, adding that the other three-quarters were neutral. "When we look at Skype users, we find them to be socially influential. They're more likely to use Twitter, comment on posts, review products, they're social influencers and it's that mindset that predisposes them to have the desire to have a conversation with a brand in that context."
Brand favourability increases by 15%, message recall has lift of 75% and there is a 17% increase in the intent to recommend when users view the ads in Skype, says Strolz. "[The mobile ads are] a mirror experience of what's being offered online," he adds. "One advertiser owns that opportunity and has a spotlight while an intimate conversation is taking place among an audience that has described itself as early adopters, with high disposable income and takes recommendation [from family and friends]."