Staples Advantage gets messy
The business arm of the office supply chain is breaking into social media with a contest that will reward Canada's most disorganized employee.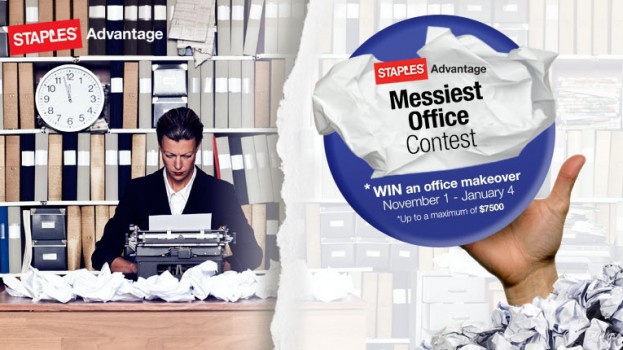 Trash your office and get paid? Who says getting messy can't be fun?
Staples Advantage Canada is breaking into the world of social media with a digital contest that will reward Canada's messiest employee with a $7,500 office overhaul. The business arm of Staples announced the contest Monday, and is using it to build brand awareness online.
To enter, employees must submit photos of their messy offices to Staples Advantage's Facebook page, or its corporate website. Finalists will be chosen by open voting, with a panel of judges selecting the winner.
The media campaign for the contest, designed in-house by the company's marketing team, includes digital banner ads on LinkedIn. Soulla Lindo, marketing communications manager, Staples Advantage, tells MiC that Staples is also looking to use targeted ads on Facebook and Google Adwords, as well as promote the contest through social media channels, including Twitter and Pinterest.
"This promotion allows us to showcase all of our products and services with one contest," says Lindo. "It also gives us the opportunity to engage with both current customers and potential new customers."
The contest is targeting office employees over the age of 25 who work for a company with more than 20 associates. It began Nov. 1 and runs until Jan. 4.