Sportsnet takes Tour de France rights from 2014
The sports specialty channel adds the prestigious race to its expanding lineup of pro cycling broadcasts.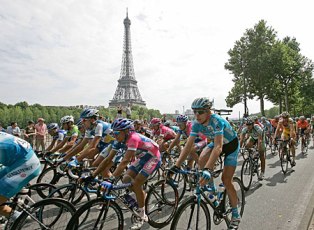 Sportsnet has got its mitts on the one professional cycling race that matters, the Tour de France.
The sports specialty channel signed a six-year multi-platform deal for the rights to the prestigious race in France, to start in 2014 after the current rights deal with TSN expires.
The agreement, to run until 2019, includes rights for TV, online and mobile to all 21 stages of the Tour de France.
Sportsnet already has the rights to other Grand Tour events in pro cycling like the Giro d'Italia in May and the Vuelta a Espana in August and September in Spain.
But unlike pro sports like soccer, auto racing and golf, where fan interest is international and focused on a number of major tournaments already airing on TSN and Sportsnet, fans and sponsors of pro cycling mostly converge once a year in July on the Tour de France.
Rogers Media is committed to raising its game with pro cycling, including in Canada where it will air the inaugural Tour of Alberta in September.
"The Tour de France is the ultimate event in cycling," Navaid Mansuri, VP of finance and sports programming at Rogers Media said of the multi-year deal with Tour de France distributor Amaury Sport Organization, in a statement.
He added the Tour de France deal "solidifies our commitment to providing fans with premium cycling content across multiple platforms and strengthens Sportsnet's already robust portfolio of cycling programming."
From Playback Daily