Three new faces on The Real Housewives of Vancouver
Slice seeks new on-air relationships and drama for its adaptation of the global franchise.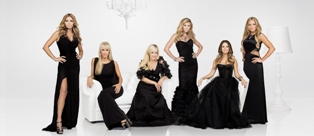 Three new wives have been added to The Real Housewives of Vancouver, ahead of a second season bow on Slice on Feb. 5.
Robin Reichman, Ioulia Reynolds and Amanda Hansen join returning wives Jody Claman, Mary Zilba and Ronnie Negus for the first Canadian adaptation of Bravo's Real Housewives franchise, which also airs on Slice. First season wives Reiko MacKenzie and Christina Kiesel have left the show to make room for the new trio.
"Adding three new wives to our existing roster of fabulous stars is going to turn the series on its head, tripling the potential for new relationships, drama and spectacle," said Barbara Williams, senior VP of content, Shaw Media.
Slice is betting that upping the number of wives to six will increase the scope for juicy storylines. The second season is building on momentum from the rookie season, which brought Slice its biggest-ever series audience.
From Playback Daily