Spotted! Rewind recycles for charity
The Channel Zero-owned property partnered with the WWF Saturday to help consumers dispose of old VCRs and sign up for the channel.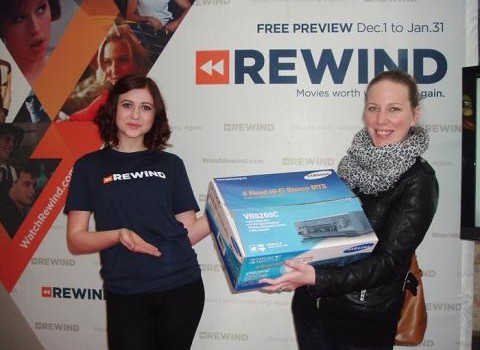 Now that classic movie channel Rewind is here, movie lovers no longer need their VCRs. Or so went the message Saturday, as the Channel Zero-owned specialty property hosted Rewind Your VCR Day.
In partnership with the World Wildlife Fund (WWF), Rewind urged movie lovers to bring their VCRs to be properly recycled at special Rewind Lounges located in malls in the Greater Toronto Area (Vaughan Mills mall), Vancouver (Pacific centre), Edmonton (Southgate centre), Calgary (Southcentre mall) and Montreal (Fairview Pointe-Claire mall). For each VCR handed over, Rewind pledged $25 to the WWF, with the hope of raising $25,000 total.
To further sweeten the pot, people who parted with their VCRs could enter to win one of the $2,000 prizes being offered at each location to help pay off their holiday bills.
Rhonda Messieh, marketing manager, Channel Zero, tells MiC the WWF was a perfect fit for the promotion due to its focus on conservation – particularly through its partnerships with initiatives like Green4Good, which refurbishes and resells old electronics and parts.
She adds that Rewind's programming, which targets Generation Xers and consists of classic 70s, 80s and 90s movies, connects the channel to the now-obsolete VCR era, and made the promotion a good way to promote the brand and its offerings. To lure in viewers for its ongoing free preview, which runs until Jan. 31, the Rewind Lounges had video loops and promo reels playing to allow consumers to sample the channel.
Messieh says that an experiential promotion like Rewind Your VCR Day, timed to avoid the holiday marketing clutter, was a good way to reach consumers at the local level. She adds that it was also a departure from the typical promotion for the channel, which so far has been national in scale.