Slice acquires TBS reality show King of the Nerds
The series sees 11 people compete in teams and on their own to see who's the biggest geek.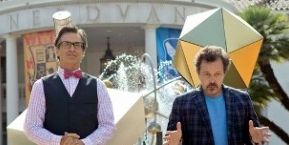 Shaw Media is betting it has found primetime Nerdvana by acquiring a U.S. reality competition series that tests gamers and geeks for a chance to win $100,000.
Starting Jan. 23, Slice is to air  the new series, King of the Nerds, from U.S. producer Electus and American broadcaster TBS.
The reality show is hosted by Robert Carradine and Curtis Armstrong (pictured), best known for their roles in Revenge of the Nerds.
The series sees 11 geeks in a fantasy filled mansion compete as teams and then individuals before one is crowned the biggest nerd of all.
"Unlike anything we've aired on Slice before, King of the Nerds is a fun and amusing series that takes a look at the nerdy side of competition," said Barbara Williams, senior VP of content at Shaw Media, in a statement.
From Playback Daily