Canadian Tire partners with Olympic Team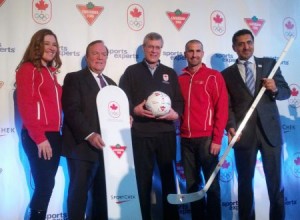 The Canadian Tire Corporation has signed an eight-year long deal as a premier national partner of the Canadian Olympic Team, along with six other amateur sport partnerships.
In addition to the partnership with the Canadian Olympic Team, Canadian Tire announced new and expanded partnerships with the Canadian Paralympic Committee, Canadian Soccer Association, Skate Canada, Hockey Canada, Alpine Canada Alpin and Canada Snowboard.
"Canadian Tire has been cementing its key categories for some time. Back in 1922 when the company started, automotive and sport were its key categories. Canadian Tire has a bigger role to play in Canada in sport at a grassroots level," Duncan Fulton, chief marketing officer, FGL Sports, tells MiC about the insight behind forming the partnerships.
Fulton adds that the Olympic partnership differs from previous deals in that the entire Canadian Tire, Sport Chek and Sports Experts family will leverage its marketing assets to promote both the partnership and the Olympic athletes across all of its retail categories, as opposed to relying solely on sports-related campaigns.
He says the sports partnerships are not about attracting new customers, but rather bolstering the brand's grassroots programs, which target families and aim to get children involved in sports.
The deals are part of a commitment from Canadian Tire to support amateur sports in Canada from the playground to the podium, according to a release. As part of that, Canadian Tire has announced the launch of a grassroots "Learn To" series, which will be developed with its sports partners to give kids the chance to learn and participate in sports. Sport Chek and Sports Experts also announced the launch of a new grassroots program, "Skills Development," which will build on core skills and support amateur athletes in hockey, soccer, skiing and snowboarding. Canadian Tire, Sport Chek and Sports Experts will also launch a national employment program which will offer employment with flexible hours to athletes across 1,700 locations to accommodate training obligations.

Photo: Canadian Olympians Clara Hughes and Benoit Huot with the FGL Sports leadership team at the sponsorship announcement
Tags: Alpine Canada Alpin, Canada Snowboard, Canadian Olympic Team, Canadian Paralypic Committee, Canadian Soccer Association, Canadian Tire Corporation Limited, Hockey Canada, SKate Canada, Sport Chek, Sports Experts