CMT goes big for its Friday lineup
The Corus Entertainment channel has launched a larger than usual campaign to promote Bayou Billionaires and My Big Redneck Vacation.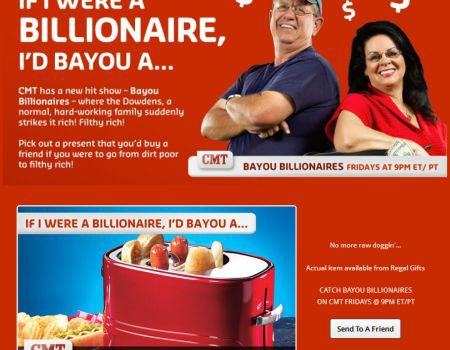 Corus Entertainment has launched a month-long multi-platform campaign to promote two of its new reality shows, Bayou Billionaires and My Big Redneck Vacation, which premiere tomorrow beginning at 9 p.m. on CMT.
Laura Baehr, VP, networks and marketing, kids and family division, Corus Entertainment, tells MiC the radio, digital and TV-based campaign has a lot more "tentacles" than promotions for the channel usually have to help get the word out about the original programs.
Targeted at the channel's core demographic of women aged 25 to 54, the campaign (with media and creative done in-house) is centered on the tagline "Red is the new black," which is the channel's take on the small town redneck element of both the new shows.
Radio is running on Corus stations, with an additional buy of top channels in Toronto and Vancouver. Digital ads include an extensive campaign with iVillage, which includes ads and content like southern-inspired decorating, recipes and awkward family portraits, and TV spots in the campaign can be seen on Corus and Shaw Media networks through US ad avails, says Baehr.
In addition, Corus has launched a Facebook app promoting Bayou Billionaires that allows users to finish the statement "if I were a billionaire I'd 'Bayou' a…" and fill it in with things like a set of new teeth before sending it to friends.
"We think these shows will appeal to the family-friendly nature of CMT," says Baehr. "That is our tone and our promise. We think these shows will appeal to that, this is not scratchy reality it is more like sitcom reality."