Quebec Breast Cancer Foundation has a question for women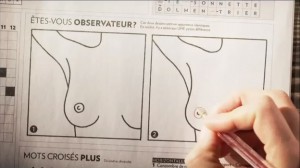 The Quebec Breast Cancer Foundation is asking women to get a little more familiar with their breasts, with a province-wide campaign that aims to educate them about the signs associated with the disease.
With media by Espace M and creative by Orange Tango, the "How well do you know your breasts?" campaign, which is targeting women 20+, relies mostly on donated ad space from the foundation's media partners, including Radio-Canada and Astral Media.
It features 15-second TV spots on CTV, Radio-Canada and Canal Vie, radio spots on Astral's properties, including Virgin and Rouge FM, web ads on CTV.ca and Radio-Canada.ca/sante and a microsite. Additionally, La Vie en Rose stores in Quebec will help raise awareness for the initiative by carrying the foundation's Breast Observation Guide.
Nathalie Le Prohon, chair of the Quebec Breast Cancer Foundation, tells MiC that the campaign, which is now in its second year, features a new message. While the first campaign focused on encouraging women to change their lives and take care of their breasts, Le Prohon says this year's effort aims to "demystify breast observation," by telling women which signs they should and shouldn't look for when examining themselves.
She adds that the foundation opted to add a TV buy and increase its digital buy for this year's campaign because it was the best way to broaden the reach and visibility of its new message, while building on the momentum of last year's initiative.
She says the Quebec Breast Cancer Foundation is setting itself apart from similar charities by focusing less on research, and more on educating women about detecting signs of breast cancer early, and giving them the tools to examine themselves.
The campaign launched this week and is expected to be in market until late April or early May.
Tags: Astral Media, Espace M, How well do you know your breasts, Nathalie Le Prohon, Orange Tango, Quebec Breast Cancer Foundation, Radio-Canada