V goes mobile with Shazam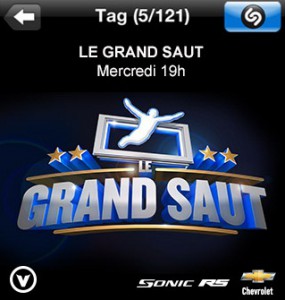 French TV channel V has introduced a mobile second screen experience for smartphone and tablet users that uses the company's media engagement app to offer viewers access to exclusive content from two of its shows, courtesy of a partnership with Shazam.
The app, which is sponsored by the Chevrolet Sonic RS, officially launched Thursday evening with the 8 p.m. broadcast of L'amour est dans le pré. It will also offer viewers exclusive content from Le grand saut, which premieres Feb. 20 at 7 p.m.
During the broadcasts of the shows, the Shazam logo will pop up on screen, prompting viewers to go to the app and enter the show's tag for a look at behind-the-scenes footage, scenes that didn't make it to air, and sneak peeks at future episodes. Viewers can also use the app to interact through social media.
Carl Rousseau, general manager, V digital, tells MiC that V saw this as an opportunity to further engage viewers with its programming and give them more content when and where they want it.
He adds that the launch of the app is also meant to attract new advertisers, who can use the app to allow viewers to access longer commercials, or to push to additional content.
Rousseau says that the target demographics for L'amour est dans le pré and Le grand saut, which are adults 25 to 44 and adults 25 to 54, respectively, made Chevrolet a strong sponsor for the content hub, because it was looking to reach younger consumers on a different platform.
Though the second screen experience has only just launched, Rousseau says the plan is to continue to grow it across V's network.
"V wants to have a second screen experience on all of its shows. So we're building extra content for every show, and for everything we do on air, we're doing something bonus online or on mobile," he explains.
Tags: Carl Rousseau, Chevrolet, L'amour dans le pré, Le grand saut, Shazam, Vtele