Spotted! Kellogg launches a tweet shop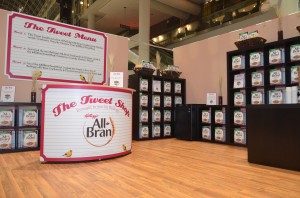 Kellogg's is trading boxes of its new All-Bran Cranberries & Clusters cereal for tweets this weekend in Toronto, with the brand bringing an All-Bran Tweet Shop to the Eaton Centre from today to March 9. The cereal is the first to be added to the Kellogg's All-Bran lineup since 2008, so the brand wanted to launch in a unique way, Andrew Loucks, VP marketing, Kellogg Canada, tells MiC.
First launched in London last fall to introduce Kellogg's Special K Cracker Crisps to the UK market, the Tweet Shop, promoted with PR by Strategic Objectives, will give consumers who tweet with the hashtag #AllBranTweetShop or write a Facebook post on the brand's wall a full-size box of the brand's All-Bran Cranberries & Clusters cereal.
Targeting women over the age of 35, the tweet shop was brought to Canada based on the insight that 20% of Canadians are on Twitter, and people here spend an average of 7.7 hours per month on social networking sites, says Loucks.
"Canada's first-ever Tweet Shop is a ground-breaking and unique way to both engage consumers with the brand and give them the opportunity to share their experience with their social networks," he says. "It also provides us with the opportunity to connect with consumers both online and offline."
The All-Bran Tweet Shop is part of a larger TV and online launch campaign for All-Bran Cranberries & Clusters cereal, with media by Starcom and creative from Leo Burnett.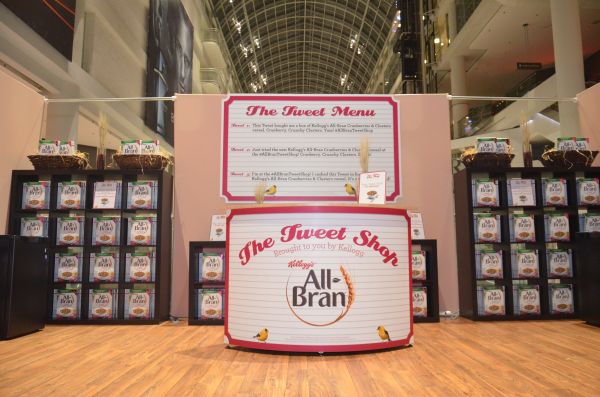 Photo credit: Kellogg Canada
Tags: All-Bran Cranberries & Clusters Cereal, All-Bran Tweet Shop, Andrew Loucks, Eaton Centre, Kellogg, Spotted, Toronto