W Network launches Shop the Show
The execution is kicking off with a "partnershop" between Love It or List It Vancouver host Jillian Harris and Canadian e-retailer eLuxe.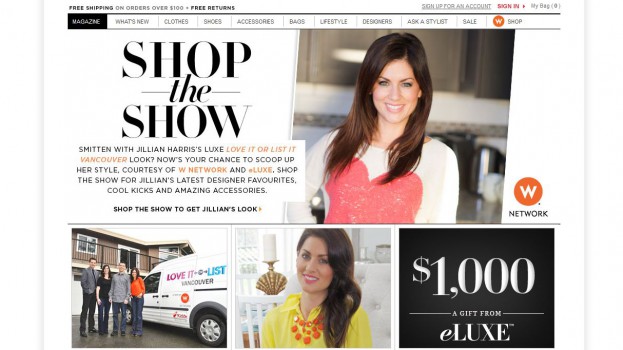 Corus Entertainment's W Network has launched Shop the Show, a new online guide that allows viewers to purchase products and styles they see featured on programs on the channel.
The program is launching with a partnership between Love It or List It Vancouver and online retailer eLuxe, where fans can visit the site to shop outfits worn by host Jillian Harris (who is styled by an eLuxe personal stylist) after the show airs.
Christina Litz, VP, digital content and engagement, Corus Entertainment, tells MiC viewers of the channel are constantly asking how they can buy things seen on shows on the channel, from furniture and paint colours to what the hosts are wearing.
"The initial partnership with eLuxe is the beginning of what you're going to see more of at the W Network," she says. "We are open to any number of arrangements for this program, if an advertiser wants to more fully immerse themselves in the Shop the Show program then we are open to building a bigger program with them here."
Revenues generated from Shop the Show will be shared between W Network and eLuxe, according to a W Network spokesperson.
The Shop the Show program between Love It or List It Vancouver and eLuxe will be promoted through bumper spots on W Network and online as well as through a branded landing page on the eLuxe website and through both brands' social media channels.
The partnership with eLuxe for Shop the Show is set to run through the remainder of this season of Love It or List It Vancouver, with Litz adding W Network is open to expanding the program to other partners and shows on the channel.