Bus stop surprises and social driving apps: MiC's Global Tour
Juice Mobile's Neil Sweeney and Polar Mobile's Kunal Gupta weigh in on mobile executions from Qualcomm, Volkswagen and Sony.
It's been "The year of mobile" for about the past five years now. Given this, what better time for the MiC Global Tour to take a peek at what brands are doing with the medium? In this edition we take you to the US where Qualcomm used a mobile site to make waiting for the bus more enjoyable and Volkswagen launched a social driving app. Then it's off to Japan, where Sony used an augmented reality music festival to launch its new smart headphones.
Here's what Kunal Gupta, CEO, Polar Mobile, and Neil Sweeney, president and CEO, Juice Mobile, had to say about these mobile executions.
US: Qualcomm gives commuters a mobile lift:
Nothing is more boring than waiting at the bus stop. At least that was the insight that drove Qualcomm's recent "Born Mobile" campaign. The tech company used transit shelter ads with a mobile URL and messages like, "In a hurry?" and "Bored?" Depending on which URL was in the transit shelter, commuters who visited the site were surprised by either a sports car, a bus full of jugglers or a dogsled.
Gupta: What really shines about this campaign is that Qualcomm took advantage of a place where people are often either bored or stressed out and made that a part of the experience. They really put themselves in the consumer's shoes. This is a great example of using a streamlined, well thought out mobile landing page.
Sweeney: This supports the idea of mobile as a way to communicate and activate locally at any time. Basically mobile is being used as an option in traditional media to extend the campaign beyond a flat image. It's a fantastic promotional stunt. It built content for the brand and carried out their brand message but it's not really a mobile advertising campaign.
Volkswagen recently teamed with Google to create a new mobile app that aims to make roadtrips a more social experience. The app syncs with your drive and connects you to multiple people, combining their photos, mileage, check-ins and comments into a Smileage score, aggregating it all into a social road map. Drivers get bonus points for passing other VWs with the app and can earn stickers for their scores.
Gupta: This would be very fun for groups.  [Because it syncs] with [the] drive [it] would also make photo sharing [via social media] after the trip a breeze. The check-in aspect is also interesting because it could lead to creative advertising streams – suggested restaurants, rest stops, etc. within the app.
Sweeney: The VW experience isn't real. It is portrayed as if this is all dynamically happening at the same time, but this isn't doable and would create a huge distraction when driving. Will this type of functionality improve over time? Yes, but it will be in-dash and powered by the phone in your pocket. It's a good illustration of where mobile technology is going though.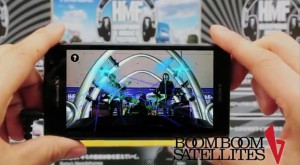 Japan: Sony rocks out Augmented Reality style
How do you promote a new line of headphones? If you're Sony, you tap four of Japan's most popular brands to create an augmented reality music. The electronics company used in-store demos and put up posters around Tokyo that could be scanned to launch a live concert featuring one of the bands. The festival has since moved on to multiple cities in Japan.
Gupta: Augmented reality is a big trend right now. We're interested to see how brands and advertisers will team up to take advantage of it. Sony's use of augmented reality in this campaign is successful because it provides content to the consumer without obstructive product placement within the app, I can see this being a potential downfall for similar campaigns.
Sweeney: The one thing people need to remember about AR is that in order to activate it you need to have an application on your phone to do this. Many brands look at AR, and this is very much the future, but you need to remember that if you do a campaign like this you need to push the download piece as well.  If you have a $50,000 campaign and 25 people with a scanner, this will win you a creative award but not necessarily move the needle on product sales or brand activation.