Global News reinvents itself online
The new site uses responsive design and adds branded and sponsored content opps for advertisers.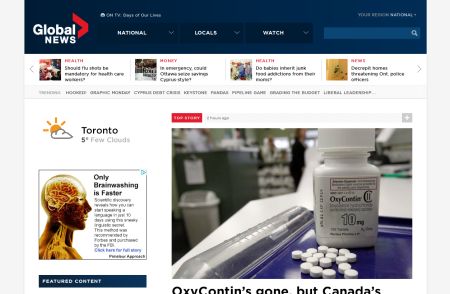 Global News has rebuilt its online home so that Globalnews.ca uses responsive design, focuses less on commodity news and adds new branded, sponsored and featured content-block opportunities for advertisers.
Ron Waksman, senior director, online and current affairs and senior advisor, Global News journalistic standards and practices, tells MiC the new look is not a redesign, rather he calls it a reinvention "from the ground up."
The site's new responsive design allows it to target users in a way that is platform agnostic, he says."We have to integrate ourselves into the seamless digital world that our consumers have been in for some time now. We believe by focusing on mobile that we can be a part of their lives on all these occasions. Unlike with an app, you get the full website experience with responsive design."
In addition to changing the way the site is designed, Global News has also added branded, sponsored and featured content opportunities to the site, following the lead of the newscaster's broadcast arm, which has been producing such content for more than four years, according to a release.
"We believe we will be able to come up with enough innovation and creative projects to justify digital dollars as opposed to digital dimes, while at the same time maintaining our credibility and integrity," says Waksman.
Sponsored content is a multi-story campaign based on a broad theme of interest to the advertiser or sponsor and is created by Global News editorial staff without influence from the client.
Branded content is a collaborative multi-story campaign created by an independent writer or producer who is not a member of the Global News editorial staff.
Featured content is also not created by Global News editorial staff and links directly to the external website of an advertising partner.
All pieces of sponsored, branded and featured content will be featured in a way that makes them clearly distinct from Global News content, says Waksman.