Dove sheds light on self-esteem issues
The beauty care brand erected two 3D billboards in Toronto, with another in Montreal next week, to kick off its latest multi-platform campaign.
Dove has launched a new set of 3D billboards at the intersection of Bloor and Church streets in Toronto aimed at targeting youth battling low self-esteem.
"112,670 Canadian girls will quit soccer because they're unhappy with their bodies," states the North-facing billboard placed by Mindshare, with creative by Ogilvy. Another, running perpendicular and comprising 186 swimsuits, reveals that "50,405 Canadian girls will quit swimming because they feel bad in a bathing suit."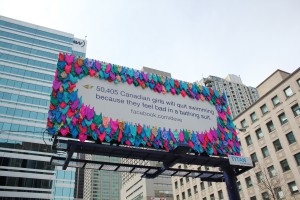 The dual Titan-owned billboards kick off the brand's latest campaign, entitled "Girls Unstoppable." On April 15, the brand plans to erect another 3D billboard in Montreal and is relying on the outdoor pieces to extend the conversation around low self-esteem online, Sharon MacLeod, VP of marketing, Unilever tells MiC.
Global research, which spurred Dove to launch this new program, found that six in 10 girls are quitting activities, such as swimming and soccer, because of how they feel about their physical appearance. To alleviate the issue, Dove is asking moms (around age 30 to 50), as well as mentors such as teachers, to begin speaking with their loved ones about how to have a healthy body image, and to continue the sports they love.
Being in a "high traffic" and "very public" area, the outdoor creative is able to capture the interest of moms who work nearby or drive past to drop off their kids at school, she says. The call-to-action on each board, directing them to visit Dove's Facebook page, invites them to join the conversation online as well as equip themselves with tools (such as information guides and games) to help create a dialogue with their daughters.
On Monday, Dove will also launch a spot on TV. There will also be in-store marketing and a promotion where shoppers who purchase Dove products can submit a personalized message for a loved one on the brand's website and have it printed on a vinyl cling and placed on a Dove branded hand mirror, which will be mailed to their home. Agency Capital C handled the creation and execution of the in-store program.
Dove has been tackling the issue of young girls suffering from low self-esteem for the past ten years, ever since it launched the "Real Beauty" campaign in 2004, says MacLeod. "We've been doing it for so long, I can't imagine not doing it," she says. "If this is something that Dove can champion and make a cultural shift, why wouldn't we?"