Analysts share insight on mobile consumption habits
Bell Media's Jonathan Dunn and BrandSpark's Mark Baltazar broke down how brands can leverage mobile behaviour at the Best New Product Awards Conference.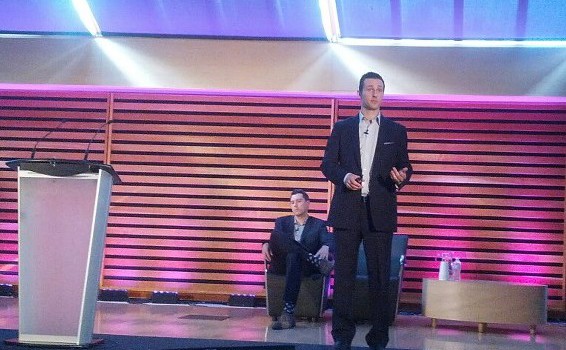 During yesterday's Marketing in a Brave New World Conference (part of the 2013 Best New Product Awards), Jonathan Dunn, associate director of mobile sales and marketing, Bell Media, and Mark Baltazar (pictured in front), VP, BrandSpark International, presented findings from joint research about consumers' mobile consumption and shared insight on how advertisers can leverage these behaviours.
Baltazar said that the research, which was conducted over last half of 2012 and gathered from Bell Media app users, suggests that the mobile market is not driven by traditional demographics, but by three distinct groups.
The first group is practical users. Making up about 30% of the mobile market, these consumers only use mobile to perform basic tasks and mostly consume text-based media, with an emphasis on entertainment or specialty content.
Conscious consumers, meanwhile, make up the largest share of the market at 40% and use their mobile devices for basic tasks, but also consume short-form audio and video content, in particular news and sports.
Second nature users, who make up 30% of the mobile market, are heavy consumers of mobile content, and may use their mobile devices as primary screens for watching full-length videos and reading complete articles across all genres.
Dunn said that with these three emerging consumer groups come three distinct ways for advertisers to engage with them. For practical users, whose consumption is more task-oriented, he said that mobile banners have an important role to play because they can promote brand awareness and recall without disrupting the user experience.
For conscious consumers and second nature users, who also use their mobile devices for entertainment, Dunn said brands should make their content work harder by adding interactive elements, like product tours or ad units with photo galleries, as a means to nurture purchases. With second nature users, who are the most active consumers, he added that making content shareable in social spheres will allow brands to extend their reach even further.
Dunn said the biggest change in the mobile market in 2013 has been the emergence of more diverse mobile video ad opportunities and larger ad formats, and that this is giving brands more incentive to add mobile to their mix. Whereas traditional small banners didn't allow brands to tell their stories, the new units offer chances for deeper engagement and more reliable analytics that go beyond simple impressions and click throughs, and allow brands to adjust their campaigns in real-time.
Looking forward, Dunn said he expects mobile to continue to grow, as these new mobile ad formats continue to emerge.