Montreal Connected hosts unveiled
The sports magazine show, which will air on Rogers Media's new City Montreal channel, kicks off on May 30.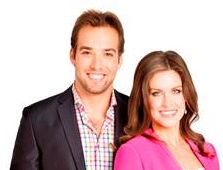 Rogers Media's City Montreal has unveiled the hosts for Montreal Connected, the channel's weekly sports magazine show, which kicks off on Thursday, May 30 at 7 p.m.
Co-hosted by Sportsnet reporter Alyson Lozoff and former Oh So Cosmo host Wilder Weir, the show aims to take viewers beyond sports highlights for an in-depth look at the city's professional and amateur sports teams, along with athlete profiles and features on local, national and international sports.
The show will air Thursdays at 7 p.m. with encores on Saturdays at 3:30 and 7:30 p.m. and Sundays at 6 p.m. Sportsnet East will air Montreal Connected on Saturdays at noon.
Rogers Media received CRTC approval last December to convert English-language Métro14 Montréal into City Montreal, which debuted on Feb. 4.