Spotted! ONPHA rings the doorbell
The housing advocacy group is using a travelling display of free-standing doors to raise awareness about the benefits of affordable housing.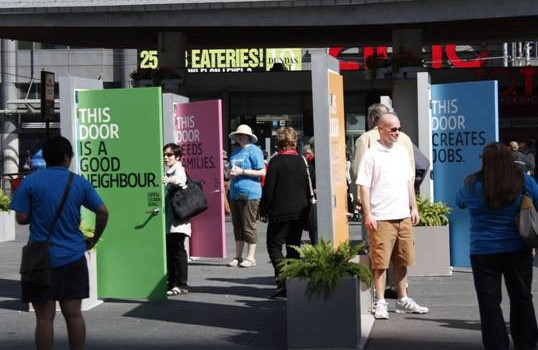 The Ontario Non-Profit Housing Association (ONPHA), an affordable housing advocacy group, is looking to open the door to affordable housing in the province with a new public awareness campaign.
Executed by Manifest Communications, the campaign is targeted at adults aged 25 to 55. It relies on pop-up events throughout the province that feature a series of free-standing doors with messages about the benefits of affordable housing, including "this door creates jobs" and "this door feeds families."
Passersby are invited to ring the doorbells on the doors, which are connected to a digital counter. The goal of the campaign is to reach 156,358 rings (one for each person on the waiting list for affordable housing).
The pop-up events are being supported by a heavy social media presence on Facebook and Twitter, as well as through Vine videos.
Jim Diorio, chief idea officer, Manifest Communications, tells MiC that this campaign marks the first major public-oriented initiative for the ONPHA. He adds that it was important for the organization to show that it has public support for the issue of affordable housing, to get it on the radar of the government.
Currently, the campaign has received more than 34,500 doorbell rings and has held events in Toronto and Ottawa.
The campaign will run through June, with appearances scheduled for North Bay and Windsor, as well as additional surprise appearances.