CHCH announces new fall lineup
New additions to the fall lineup, such as Spin Off (pictured), and a growing online presence were announced Tuesday to celebrate the Hamilton network's 60th year.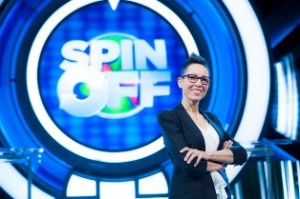 By Georgia Graham
At yesterday's press conference celebrating its 60 years of broadcasting, Channel Zero-owned CHCH unveiled changes and updates aimed at continuing its upward momentum of snagging 40% more viewers in just the last year, making the Hamilton-based network one of the five most watched in Toronto and Ontario, and bringing in five million viewers each week.
CHCH announced the renewal of fan-favourite Jeopardy with Alex Trebek, as well as the beginning of a new lineup of shows and a burgeoning online presence.
To follow the trend of "changing viewing habits," CHCH announced the acquisition of ANDPop, renamed Channel Zero Digital, which will serve as an online extension of Channel Zero. VP of marketing Chris Fuoco promised that Channel Zero Digital will offer many opportunities for advertisers as well as tie-ins with television programming. CHCH also unveiled Channel Zero Digital as the only Canadian distributor for Crackle, pitched as a free Netflix, and backed by Sony.
CHCH is positioning its new fall programming between popular lead-ins to help introduce loyal viewers to new content, which Fuocco described as stable, strong and fresh.
New series The Originals, a spin-off of the successful teen drama The Vampire Diaries, will air at 8:00 pm on Tuesdays, followed by Supernatural. Another new addition, CSI: Miami, will air later that night at 10 p.m.
Wednesday has been nicknamed "Game Night" as new game show Spin Off, hosted by comic Elvira Kurt, will air at 8 p.m., sandwiched between Jeopardy at 7:30 and newly-acquired Who Wants to Be A Millionaire with new host Cedric the Entertainer at 8:30. Spin Off, created by Mark Burnett, the producer behind Survivor, The Voice and Celebrity Apprentice, incorporates an online presence with classic game show elements. During commercial breaks, viewers can head over to Spin Off 360 on Channel Zero Digital to play along. The Spin Off 360 experience is produced by Jarrett Sherman and Daniel Dales' recently launched venture Digital Howard.
CHCH celebrated not just the new changes, but old favourites returned and revamped. Kiddie talent show Tiny Talent, which spanned 35 years from 1957 to 1992 during its run, has been brought back. The show will be updated with backstage scenes and a possible digital presence. Even CHCH's original mascot, Mister 11, made an appearance.
The conference's featured speaker Alex Trebek congratulated CHCH on 60 years, and announced some special events in honour of Jeopardy's 30th year. Jeopardy will be hosting to-be-determined events focusing on audience participation, which will culminate in 30 winners, as well as special tournaments in which previous players beloved by viewers will be brought back on to a brand-new set.
From Playback Daily