Ford Lincoln Mercury buys top spot: Media Monitors
The car company bought the most radio airtime in Toronto and Montreal for the week of Aug. 5 to 11.
Ford Lincoln Mercury bought the most airtime in Toronto for the week of Aug. 5 to 11, according to the latest Media Monitors report. The car company moved up from #14 to the top spot for the week.
Joining the list at #2 is the Canadian National Exhibition, while MarineLand stayed at #3 for the second week in a row, Mitsubishi Motors comes onto the top ten at #4 and Fair for Canada moved up from #11 to #5, rounding out the top of the list in Toronto.
Montreal also saw Ford Lincoln Mercury buy most radio ad time for the week, staying on top for the second week in a row. Comedy Gold joined the list at #2, Wawanesa Insurance jumped from #85 to #3 for the week, Jeux du Canada moved from #6 to #4 and the Canadian Wireless Telecom Association moved from #8 to #5.
Toronto:
By brand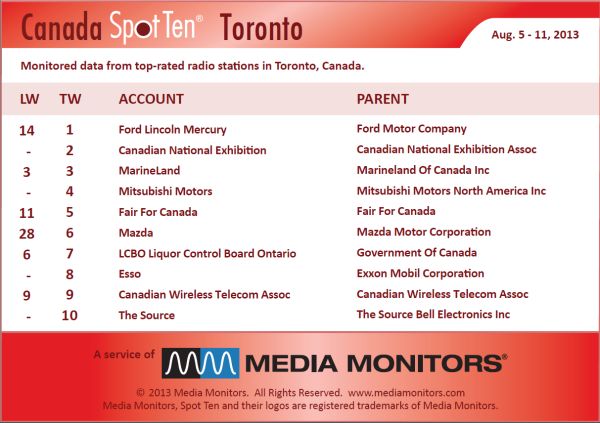 By category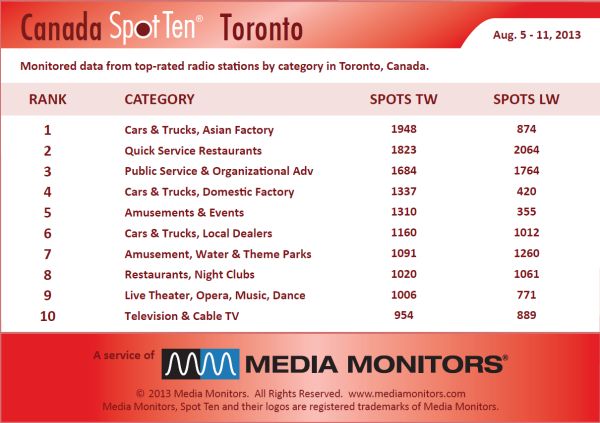 Montreal:
By brand
By category