MTV partners with Ford Fiesta for new online series
The program, which relaunches the 2014 Ford Fiesta to its target, has Canadian musical artists travelling in the car and posting the journeys online.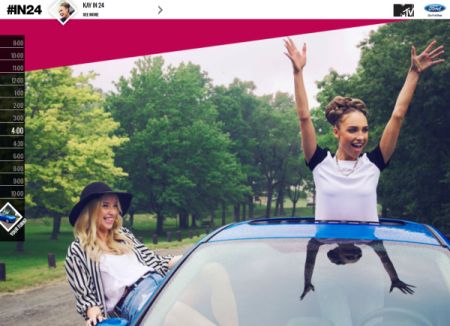 Bell Media has launched #IN24, a new program in partnership between MTV and Ford that features six Canadian artists travelling somewhere in the country in a Ford Fiesta.
Targeting 30-year-old urban females with a household income of $70,000, the program was arranged following a meeting with Ford's media agency Mindshare, who put the project together along with Free Agency, Dave Caporicci, managing director, Bell Media Partnerships, tells MiC.
The first of the six weekly journeys, shot "social documentary" style feature singer My Name is Kay travelling to Niagara Falls, ON. with MuchMusic VJ Liz Trinnear. The website for #IN24 is a Parallax site, which uses multiple backgrounds that move at different speeds to create a sensation of depth and an interesting browsing experience, says Caporicci. He adds this was the first use of that kind of site for a Bell Media brand.
Sharon Brown, associate director, Mindshare says Ford relaunched the Fiesta in early August and wanted to promote the new look with a socially-led campaign.
"We know the target for the car is very social and interested in music as well as technology and lifestyle so we wanted to make a program that tapped into all of that," she says. "This is the first socially led branded content initiative we've done for Ford and connecting the program to music allows us to breakthrough to the target. We had to tread on a fine line as we were speaking to a new target that wasn't currently considering Ford or Fiesta and we needed to position this program from a lifestyle angle versus an automotive angle."
Viewers will be directed to the site through promotion on the social media channels for MTV and Much, as well as those of the artists featured in the weekly videos. In addition there will be co-branded pre-roll and display ads on MTV, Much and VEVO promoting each of the artist episodes and driving search of the #IN24 hashtag, says Caporicci.
Consumers can also win cash for their own adventure by entering a ballot on the microsite at MTV.ca/in24. A weekly prize of $1,200 will be handed out for each of the five weeks the campaign is running.
Additional artists in the series include Hey Ocean, Keys N' Krates, Shad, Down with Webster and SonReal.