Spotted! Quebec City Magic Festival defies gravity
The festival is giving people the power of levitation with an illusion activation that includes a bus shelter takeover.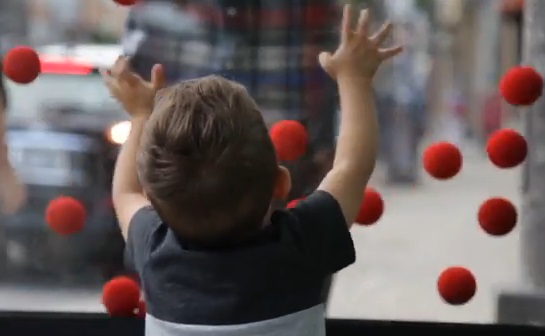 Creative agency Lg2 is putting the power of magic in the hands of ordinary people with its latest campaign for the Festival de Magie de Quebec.
With a media buy from Touché! PHD, the campaign targets families and relies primarily on a bus shelter takeover in downtown Quebec City. The bus shelter has been rigged with kinetic motion sensors that activate when passersby raise their arms and create the illusion that they're making a series of balls levitate.
The bus shelter stunt will be supported by an OOH buy through Zoom Media that includes bathroom spots where paper towel dispensers are made to look like a magician's mouth (a take on the neverending scarf trick). There will also be an integrated radio promotion on Rouge FM, featuring an announcer's voice that will seemingly disappear and reappear on different speakers.
Luc Du Sault, VP creative director, Lg2, tells MiC that this campaign marks the first time that radio has been leveraged to promote the festival, and also the first time the festival has partnered with Zoom Media.
He says that given the festival's small budget and the relatively small size of the Quebec City market, radio and OOH was concentrated around Nuovo Saint-Roch, where the festival will take place.
This campaign marks the third time Lg2 has created magic-themed campaigns for the festival. Last year the agency used six digital boards with video cameras atop to capture people as they walked by. Two screens, however, were rigged with previously filmed footage of hired actors who were also on-site moving about. Only the actors were projected onto the screen, creating the illusion that passersby were invisible.
In 2011, the agency created a billboard with a giant magician hat placed on top. Birds would then fly out from the opening to create the illusion of a bottomless hat.
Du Sault says this campaign is different because it's all about getting people to interact and become part of the show.
The Festival de Magie de Quebec takes place from Aug. 30 to Sept. 2.