Broadcasters bring fall hits to Fan Expo
Details on premieres and activations that Rogers, Shaw and Bell Media are bringing to this weekend's event in Toronto, which is expected to get over 100,000 visitors.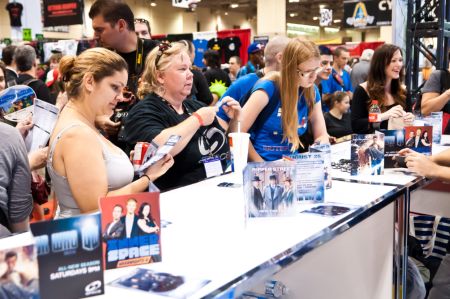 From today until Sunday, over 100,000 guests are expected at Fan Expo in Toronto, a jump from last year's 90,000 attendees, according to an event representative. Evolving from those interested in genre, sci-fi and gaming, to more of a pop culture event, broadcasters are taking note of these numbers, with Rogers, Shaw and Bell Media each upping their presence at the convention this year.
"If you look at the evolution of Fan Expo, it started out being about genre, gaming and sci-fi but it really has exploded over the past few years," says Michelle Lomack, director of communications, broadcast, Rogers Media, television and radio. "I have been involved with Fan Expo over the past six years and I have seen it become a celebration of all things pop culture."
Rogers Media is activating at the event this year by promoting one of its top priority shows for City, Once Upon a Time in Wonderland, as well as Storage Wars Canada for OLN.
Footage from each of the shows will be shown at Fan Expo, with Once Upon a Time in Wonderland, which targets adults 25 to 54, screening 20 minutes of the premiere on Sunday afternoon and Storage Wars Canada, which targets OLN's 18- to 49-year-old audience, showing the North American first broadcast of footage on Saturday at the event.
Shaw Media has increased its presence at Fan Expo, promoting with panels, autograph signings and photo booths around five of its shows airing on Showcase (Helix, Covert Affairs, Lost Girl, Defiance and Warehouse 13). Solange Bernard, director of brand strategy, Shaw Media, says this is an increase over the past couple years, when it was at the event to solely promote Lost Girl.
"Events like Fan Expo have become more wide-ranging and not as niche or focused on sci-fi genres, which in the past it has traditionally been more targeted at," she says. "We are excited that it is becoming more of a pop culture event, we feel it is important to have a presence there for promotion of the shows and for brand equity to be able to engage and connect with Showcase as a whole."
Bell Media is bringing its recently rebranded Space channel to Fan Expo, with promotions around Orphan Black, Being Human, Bitten and its flagship series InnerSpace.
"We are really excited about Space's new look for 2013 and this will be the first major event where we get to go show it off," Sandra Cardoso, director of marketing, comedy and drama, Bell Media, tells MiC. "We have always seen the value of conventions and the core genre fans, so we really want to ensure fans have the opportunity to continue that relationship. We have expanded our presence over the past couple years because we realized we can't just be Toronto-centric. For instance, we activated at the Calgary Expo in April and we work with Fan Expo organizers every year to see where they are expanding."
Photo (courtesy of Bell Media): Fans line up at the Space booth at the 2012 Fan Expo to meet the hosts of InnerSpace