Maison Birks makes a grand gesture
The jeweller has launched a contest with The Mix of Bell Media that allows Canadians to submit their proposals online for a chance to pop the question on the radio.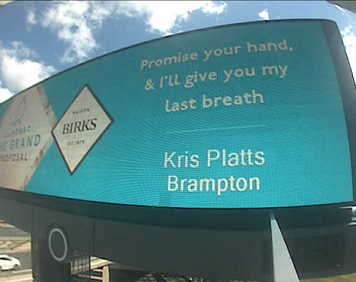 Recently rebranded Canadian jewellery retailer Maison Birks is looking to help Canadians make their big proposals with a new campaign and contest to promote its bridal business.
With media by Touché! PHD and creative by The Mix of Bell Media (formerly Astral Mix), the "Birks Grand Proposal" promotion is targeted at millennials and is hosted on a microsite. Visitors are encouraged to submit their original written proposals to their loved ones and can select whether they want the proposal to also appear on billboards in Toronto, Vancouver or Montreal.
Birks will then select a winner for each market, based on originality and creativity, who will be awarded a $10,000 ring and the chance to propose live on the radio.
The contest will be promoted through OOH ads in Toronto, Vancouver and Montreal and radio spots on Virgin 99.9 in Toronto, Virgin 95.3 in Vancouver, and NRJ 94.3 in Montreal.
Eva Hartling, director of marketing and communications, Birks & Mayors, tells MiC this is the first time Birks has run a contest like this, adding the campaign is also heavier and more integrated than its traditional media buys
She says Birks saw an opportunity with this promotion to leverage the trend of people making increasingly public and elaborate gestures to get their loved ones to say yes, while positioning the brand in a way that would allow consumers to interact with it and get more involved as a key part of the proposal process.
Hartling says the contest, which launched Aug. 12, has received more than 450 entries so far, 30% of which have been from women.
The contest is open until Sept. 2, and the winners will broadcast their proposals Sept. 6.
[soundcloud url="http://api.soundcloud.com/tracks/106841097" params="" width=" 100%" height="166" iframe="true" /]