Shaw Media and Yellow Pages Group partner for new ad opps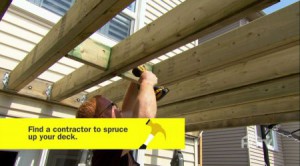 Shaw Media has announced a partnership with the Yellow Pages Group to create show-specific content links added to programs on HGTV Canada and Food Network Canada.
The deal, which was arranged with Starcom Media and Leo Burnett, launched in mid-August and will run until the middle of September, and includes overlays on the lower-third of the screen directing viewers to use the Yellow Pages app to find things similar to what is being shown on the program they're watching. For instance, if someone is watching a Diners, Drive-Ins and Dives episode featuring hot wings, an ad would pop up directing viewers to use the Yellow Pages app to find the nearest local wing restaurant, according to a release.
Greg McLelland, VP, national sales, Shaw Media, tells MiC the deal came together when Starcom Media called his team to ask about new and cost-effective ad solutions for the Yellow Pages Group client.
"The difference with this ad option is we are connecting the screen-overlays with actual content, haven't gotten down to that kind of detail in the past and it allows Yellow Pages to get close to the content of the program," he says.
One such overlay will appear during a 30-minute show, while two could appear during an hour-long program. Targeted programming for the project includes Holmes Inspection, Holmes on Holmes and Disaster Decks on HGTV Canada, as well as Chopped, You Gotta Eat Here! and  Diners, Drive-Ins and Dives on Food Network Canada.
Tags: Food Network Canada, Greg McLelland, HGTV Canada, Leo Burnett, Shaw Media, Starcom Media, Yellow Pages Group