CTV announces Amazing Race Canada after-show special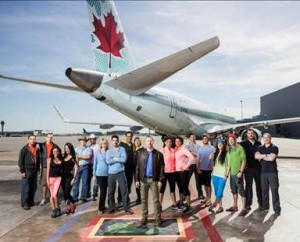 Bell Media is sending off the first season of The Amazing Race Canada with an after-show special, After the Race, to be hosted by the cast of The Social.
Airing Sept. 16 at 10 p.m. immediately following the finale of the show at 9 p.m., Mike Cosentino, SVP of programming for CTV Networks, tells MiC pairing the hosts of the newly launched daytime show The Social with the channel's summer ratings hit was a no-brainer cross-promotional opportunity. The special will also air on Tuesday Sept. 17 in The Social's regular 1 p.m. timeslot on CTV.
Cosentino says The Amazing Race Canada has met or exceeded all benchmarks set for the show, with an average audience of 3.33 million viewers each week, according to a Bell Media release. He says the network expected the Canadian edition to be a hit, since The Amazing Race has always over-indexed in Canada versus other markets.
He adds Bell Media is waiting for "the appropriate time" to announce whether the summer ratings winner will be back for a second season.
In addition to the after-show special, CTV is also bringing all nine teams from the Canadian edition to its studio at 299 Queen St. West in Toronto for an autograph signing from 12:30 to 2:30 p.m. on the afternoon of Sept. 16.
The Amazing Race Canada's first season was sponsored by Air Canada (represented by Marketel), BlackBerry (represented by Starcom), Interac and Chevrolet Canada.
Tags: After the Race, Bell Media, ctv, Mike Cosentino, The Amazing Race Canada, The Social