Canadian Tire Corp partners with MLSE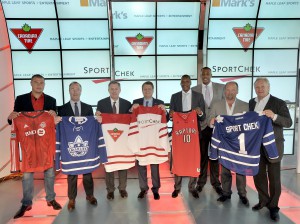 Canadian Tire Corporation (which owns and runs the flagship Canadian Tire chain, as well as Sport Chek, Mark's and Atmosphere) and Maple Leaf Sports & Entertainment have signed a 10-year partnership. MLSE owns various teams, including the NHL's Toronto Maple Leafs, NBA's Toronto Raptors and Major League Soccer's Toronto FC, as well as multiple properties, including the Air Canada Centre and Maple Leaf Square.
The deal is more than just a sponsorship, said Michael Medline, president of Canadian Tire Sports, at a press conference yesterday. Beyond the traditional branding rights at the arena (including two on-ice logos), camera and non-camera facing branded boards and signs throughout the building, Canadian Tire and its family of stores will become the exclusive retail provider of various MLSE merch.
Canadian Tire across the GTA, for example, will be the official provider of Maple Leaf, Marlies and Raptors house and home, home improvement, seasonal and outdoor goods. It'll also carry special family package deals for games throughout the year. Franchisees in the GTA will also have an opportunity to open up a 300- to 400-square-foot store within a store, branded by the MLSE. So far, five locations have signed on, and Duncan Fulton, SVP communication and corporate affairs, Canadian Tire Corp., predicts many more will follow.
Sport Chek will become the official partner of the Maple Leafs, American Hockey League's Toronto Marlies and FC sporting goods, and will take over the current Real Sports store at the Air Canada Centre. The location will be rebranded as Sport Chek and will become a "flagship" location for both the MSLE and the sporting goods retailer.
The deal also gave Sport Chek exclusive access to digital behind-the-scenes footage, which Fulton tells MiC he hopes to work into in-store and online experiences, something it has struggled to get from sports teams in the past.
Finally, the partnership will have Mark's provide uniforms for the MSLE event staff at the ACC.
The deal was a wide-ranging one and was specifically left open-ended, Fulton says. Staff on both sides are exploring various ways to leverage the partnership for marketing purposes.
"We want to be in a place where, during a game, you can pull out a Leafs app, order a jersey and we can deliver it to you in your seat in the next period because we can [finish the transaction] across the street," Fulton offers as an example.
Though there are no immediate plans to promote the new offerings beyond the in-store roll-outs, flyers and the on-site logo placement, Fulton doesn't rule out localized media buys in the future around major sporting events.
"The World Juniors are coming [to the ACC]," he says. "So we're a partner of Hockey Canada, the World Juniors [and] we've got a store across the street, so that'll be a time when you would see TV, print and OOH around [Toronto]. You may even see some Maple Leaf [hockey players] show up on Canadian Tire material."
The partnership with MLSE follows a deal between Canadian Tire and the Ottawa Senators to rename Ottawa's Scotiabank Place (home of the Sens) to Canadian Tire Place, an eight-year deal with the Canadian Olympic Team, and a partnership with Skate Canada (not to mention existing deals with the World Juniors and Hockey Canada). It marks a change at the retailer in the wake of Target's arrival and the ever-crowding of the home improvement market, entrenching itself in sports.
"Sports has always been one of the cornerstones of [Canadian Tire's brand identity], but increasingly our company [with the family of retailers, including Sport Chek and Mark's] is being positioned as the ultimate authority in sports, from playground to professional," Fulton says. "It's become an anchor."
Pictured (l-r) Danny Koevermans, TFC forward; Dave Poulin, VP and GM of the Marlies; Tim Leiweke, president and CEO, MLSE; Michael Medline, president of Canadian Tire Sports; Masai Ujiri, GM, Raptors; Jamaal Magloire, consultant and former Raptor; Wendel Clark, former Maple Leaf; Darryl Sittler, former captain, Maple Leafs. 
Tags: Canadian Tire, Canadian Tire Corporation, Canadian Tire Sports, Maple Leaf Sports & Entertainment, Mark's, MLSE, Sport Chek, Toronto FC, Toronto Maple Leafs, Toronto Raptors