Mucho Burrito heats it up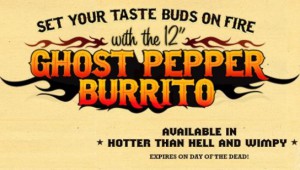 Mucho Burrito is putting consumers' taste buds and courage to the test with the return of its Ghost Pepper Burrito promotion.
Served at two heat levels, Hotter than Hell and Wimpy, the burritos, which are inspired by the world's second hottest pepper (also known as the bhut jolokia pepper), feature ghost pepper bacon, ghost pepper infused fig marmalade, spicy Mexican rice, salsa and a choice of meat, all wrapped in a fiery red tortilla. The Hotter than Hell version tops it off with Mucho Burrito's hottest salsa and a pure ghost pepper sauce.
Norm Pickering, director of marketing for North America, Mucho Burrito, tells MiC that Mucho Burrito brought the promotion back for a second year because it was the most successful limited-time offer in the restaurant's history. All told, he says the promotion drove same-store sales by 18% and incremental traffic into the restaurants by 25%.
To help heat up the launch, the QSR has embarked on a multi-platform campaign targeted primarily at men aged 22 to 34, with media by Cairns Oneil and creative by Doug and Serge.
The campaign relies primarily on radio spots, airing on Bell and Corus-owned stations like 102.1 the Edge, Q107 and The Fan 590, and will be supported by wild postings near Mucho Burrito locations in markets across the country, with the heaviest emphasis on the GTA.
Sherry O'Neil, partner, Cairns Oneil Strategic Media, says that radio was selected as the primary medium because it is a strong short-term traffic driver for limited-time offers like the Ghost Pepper Burrito promotion, adding that it was also effective for targeting specific markets with Mucho Burrito restaurants.
The campaign will also feature a strong digital presence that leverages the following the ghost pepper has garnered on the internet. Mucho Burrito has partnered with Break Media to create a content hub that will host consumer reactions to eating the burrito. It has also partnered with the UFC and the NHL to run ads across their properties, and will leverage RTB as well.
Mucho Burrito has also partnered with gaming company Loud Mouth Entertainment to run in-game ads for the first time ever, and will have street teams handing out Ghost Pepper Burrito chocolate bars in Calgary, Edmonton and Toronto.
Rounding out the campaign will be a Ghost Pepper Burrito eating contest, hosted Oct.5 in the Urban Eatery at Toronto's Eaton Centre, offering a grand prize of $2,500 and free burritos for a year.
Pickering says the media spend for the Ghost Pepper Burrito promotion is on par with other national initiatives run by Mucho Burrito, adding that the restaurant typically runs three national programs per year, each costing about $500,000.
The promotion will be offered in stores until Nov. 2, while the campaign will be in market for the next four weeks.
[soundcloud url="http://api.soundcloud.com/tracks/111079953" params="" width=" 100%" height="166" iframe="true" /]
Tags: Cairns Oneil, Doug and Serge, Ghost Pepper Burrito, mucho burrito, Norm Pickering, Sherry O'Neill