Toronto's SlimCut Media to unveil new paywall model
The company will present its "Smart Paywall," which allows newspaper publishers to reward readers with free content when they interact with ads, at Advertising Week in New York.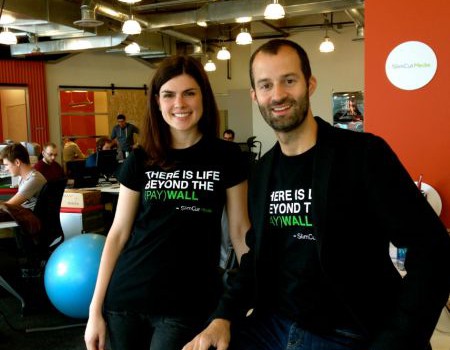 Damien Véran, president at Toronto-based SlimCut Media says his company is taking paywalls to the next level, unveiling their new "Smart Paywall" platform at Advertising Week in New York next week.
The company, which works out of the Digital Media Zone at Ryerson University, will present the new model that rewards readers for interactions with a publisher's website, including things like watching video advertisements by giving them free access to content and other exclusive offers.
"Our product allows advertising on the publisher's websites to be seen as positive for readers rather than annoying or disturbing the reading process," Véran says. "Under our plan, once you have read the five or 10 free articles you are allowed each month, you can watch a video for an ad to get additional content. So it is either you pay for the content, or you watch ads to get access."
Véran, who co-founded SlimCut Media with his partner Thomas Davy in 2011 says the company is in talks with publishers across North America to implement the product on their websites. He adds SlimCut Media has been working with Postmedia on a similar project, called Post Points, which rewards readers with points when they do things like read a new article (10 points), email an article (50 points) or watch a partner video (2,500 points). Those points can then be redeemed for coupons like $10 off when you spend $40 at Shop.ca (costs 100 points) or to enter contests like one to win a Schwarzkopf hair basket (costs 460 points).
Photo (left to right): Alexandra Bonder, digital account manager and Damien Véran, president, SlimCut Media