Spotted! Monster High gets ghoulish in Toronto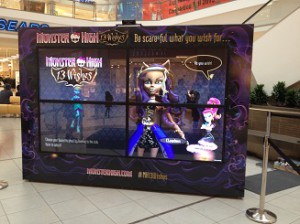 Mattel Canada is promoting the release of Monster High: 13 Wishes, the latest movie for its Monster High line of toys, with The Monster High 13 Wishes interactive experience, a series ghoulish live activations at the Scarborough Town Centre and Toronto's Eaton Centre.
With execution handled by TrojanOne and media by Carat, the activations are targeted at the brand's core audience of girls aged 8 to 12, and allow passersby to embody their favourite Monster High characters.
The execution leverages Kinect technology and a branded digital wall. When kids stand in front of the screen, they're greeted by a genie who grants their wishes by allowing them to select their character. The kids are then projected onto the screen as their favourite character and placed into a scene from the Monster High: 13 Wishes movie. In addition, lucky fans have a chance to win one of the brand's new Catty Noir dolls.
The activation is supported by a heavy push through the Monster High Facebook page.
Imran Choudhry, VP of consumer engagement, TrojanOne says that while Monster High has had a traditional media presence in the market, this initiative marks the first time the Mattel brand has launched a live activation since it was introduced to Canada in 2011.
He says that given the competition Monster High faces from both Mattel's own toy lines as well as other lines, it was becoming increasingly important for the brand to do something unexpected to help drive excitement and engagement in a new way. He adds that with brands like Monster High, traditional campaigns are no longer sufficient by themselves because kids want to feel like they can become their favourite characters, as opposed to simply engaging with them.
The Monster High 13 Wishes experience stopped at the Scarborough Town Centre from Sept. 13 to 15, and will be at the Eaton Centre from Oct. 4 to 6.
Tags: Carat, Imran Choudhry, Mattel, Monster High, Spotted, TrojanOne