TC Media expands Coup de pouce brand
The company has launched Coup de pouce Mamans, a website targeting current and future mothers, with sponsorship from food co Olymel.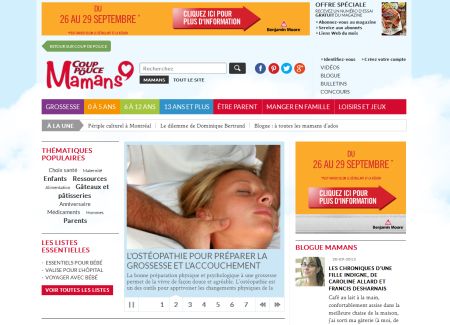 TC Media is expanding its Coup de pouce brand with the launch of Coup de Pouce Mamans, a new website targeting current and future mothers.
Geneviève Rossier, managing editor of Coup de pouce, tells MiC the website is launching with a sponsorship from food company Olymel that runs until the end of October. Advertising opportunities on the new site, which targets women aged 25 to 34, include traditional digital ads with more pre-roll opportunities on Coup de pouce Mamans than the original site because of its increased level of video content. Coup de pouce's magazine and website typically targets women in their 40s, says Rossier.
"We were getting more and more information about parenthood and motherhood, we were already a credible brand in those areas but we wanted to create a real environment where we can go deeper into these issues," Rossier says. "The ideal setting for the brand extension was the web, because that's where we can target this group of women and also where younger mothers are more likely to be found."
Olymel will activate its sponsorship by running a double-page ad in the October issue of Coup de pouce promoting "Aidez-nous à remplir le sandwich de 50 000 enfants," a project that aims to get sandwiches to 50,000 kids. The ad promotes the project, where for each person who purchases a 150g Olymel Smart Nature deli meat slice package, likes the brand's Facebook page and shares its recipe booklet from now until the end of October, Olymel will donate deli meat to make sandwiches for disadvantaged children.
In addition, a logo in the colours of the Coup de pouce Mamans logo promoting the Olymel initiative will be printed on 1.2 million Publisac bags and distributed across Quebec until the end of Oct.
Coup de pouce Mamans will have content grouped around the themes of: being a parent; eating as a family; recreation and games; pregnancy; ages 0-5; ages 6-12 and ages 13 and up.