Spotted! Good Shepherd takes its turkey drive to the streets
The Toronto food and services-providing charity has launched a Twitter-based turkey donation drive leading up to Thanksgiving weekend.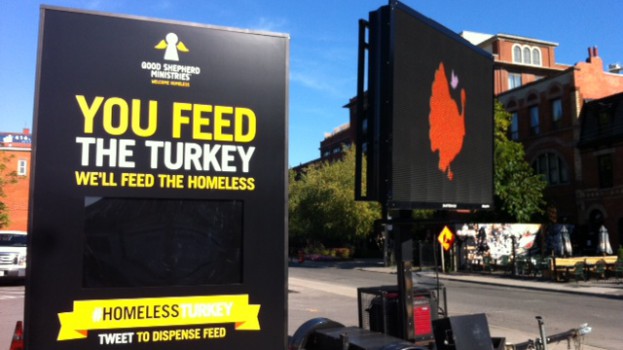 Toronto-based food and services charity Good Shepherd has launched a Twitter campaign to raise awareness and donations prior to Thanksgiving weekend around the tagline "You feed the turkey, we'll feed the homeless."
Called "Homeless Turkey," the campaign, with work from Blackjet Inc., donates a small portion of feed to three turkeys at a farm in New Tecumseth, ON each time someone tweets #HomelessTurkey. For every 1,000 tweets to the hashtag before Friday night at 7 p.m. 10 turkeys will be donated to the charity's annual Thanksgiving meal through an anonymous donor.
Rob Galletta, managing partner, BlackJet, tells MiC the Twitter turkey feeder is powered by a trough-auger, controlled via a USB relay, which connects to a server that scours Twitter for all tweets containing #HomelessTurkey. When the hashtag is used, the server activates the USB relay, which near-instantly feeds the turkeys.
A live feed of the process is being streamed from the turkey farm online at Homelessturkey.com until Friday afternoon, as well as at Queen and Soho St. in Toronto with a street team from the charity on site to raise awareness about the work Good Shepherd does, providing more than 1,200 meals to the homeless each day.
Galletta says the insight behind the campaign, which is part of a larger rebranding the agency will be rolling out closer to the December holiday season, came from the fact that homeless people in Toronto are largely ignored.
"We step over them and ignore their pleas for help," he says. "We wanted to launch a program that would allow people to see the homeless in a different light. The idea that they came back with is that if you don't want to help feed the homeless, you can help feed a turkey and we will help to feed the homeless."