Nadbank releases mid-year data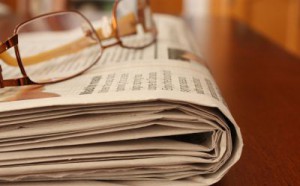 Measurement company Nadbank, which recently announced it would join forces with the PMB in the new year, has released its latest readership data.
According to the new mid-year numbers, between 50 and 60% of Canadians read newspaper content on a daily basis, with print still outpacing digital in terms of reach. An average of about 80% of Canadians read newspaper content across the eight markets measured, in either print or digital formats. Halifax and Winnipeg have the highest average weekly readership, coming in at 84% and 83% respectively.
Weekly digital reach ranges from 29% (Vancouver) to 39% (Halifax), despite many major titles putting pay walls into place this year.
On the print side, Halifax has the highest average weekly readership (77%), followed closely by Winnipeg (76%).
In addition to releasing the mid-year numbers, Nadbank has also announced the launch of an app that allows users to look up readership numbers in the nine measured markets by print-only, digital-only, print and digital, total print readership and total digital readership. The app also allows users to find demographics for each of the reader statistics, including by gender, age, household income and education.
Here are the top titles listed by total weekly readership:
Toronto:
Toronto Star: 2.34 million (6/7 day print: 1.87 million, weekly digital: 892,000)
Metro: 1.39 million (5 day print: 1.34 million, weekly digital: 41,700)
The Toronto Sun: 1.14 million (6/7 day print: 960,000, weekly digital: 289,000)
Globe and Mail: 1.25 million (6/7day print: 858,000 , weekly digital: 660,000)
National Post: 728,000 (6/7 day print: 464,000, weekly digital: 331,000)

Montreal:
Le Journal de Montreal: 1.27 million (6/7 day print: 1.18 million, weekly digital: 220,400)
La Presse: 1.11 million (6/7 day print: 848,000, weekly digital: 539,600)
Metro: 879,200 (5 day print: 848,000, weekly digital: 63,900)
24 Heures: 699,100 (5 day print: 685,000, weekly digital: 27,700)
The Gazette: 582,600 (6/7 day print: 489,000, weekly digital: 199,500)
Vancouver:
The Province: 897,000 (6/7 day print: 814,000, weekly digital: 213,000)
Vancouver Sun: 868,000 (6/7 day print: 720,000, weekly digital: 284,000)
24 Hours: 677,000 (5 day print: 651,000, weekly digital: 20,000)
Metro: 655,000 (5 day print: 848,000, weekly digital: 63,900)
Globe and Mail: 423,000 (6/7 day print: 280,000, weekly digital: 198,000)

Ottawa-Gatineau:
Ottawa Citizen: 464,000 (6/7 day print: 368,500, weekly digital: 178,000)
Ottawa Sun: 267,000 (6/7 day print: 220,000, weekly digital: 79,000)
Metro: 243,000 (5 day print: 230,000, weekly digital: 20,000)
Globe and Mail: 210,000 (6/7 day print: 121,000, weekly digital: 119,000)
Le Droit: 179,000 (6/7 day print: 154,000, weekly digital: 45,000)

Calgary:
Calgary Herald:526,000 (6/7 day print: 417,000, weekly digital; 221,000)
Calgary Sun: 394,000 (6/7 day print: 352,000, weekly digital: 97,000)
Metro: 283,000 (5 day print: 271,000, weekly digital: 30,000)
Globe and Mail: 192,500 (6/7 day print: 118,000, weekly digital: 106,500)
National Post: 113,000 (6/7 day print: 72,000, weekly digital: 51,000)
Edmonton:
Edmonton Journal: 491,000 (6/7 day print: 365,000, weekly digital: 213,000)
Edmonton Sun: 374,000 (6/7 day print: 307,000, weekly digital: 106,000)
Metro: 259,000 (5 day print: 255,000, weekly digital: 16,000)
Globe and Mail: 134,000 (6/7 day print: 64,000, weekly digital: 75,000)
24 Hours: 132,000 (5 day print: 130,000, weekly digital: N/A)
Halifax:
The Chronicle Herald: 281,000 (6/7 day print: 239,000, weekly digital: 122,000)
Metro: 224,000 (5 day print: 220,000, weekly digital: 42,000)
Globe and Mail: 91,000 (6/7 day print: 65,000, weekly digital: 45,000)
London:
London Free Press: 274,000 (6/7 day print: 234,000, weekly digital: 105,000)
Metro: 96,000 (5 day print: 94,000, weekly digital: 5,000)
Globe and Mail: 66,500 (6/7 day print: 46,000, weekly digital: 32,000)
Toronto Star: 63,000 (6/7 day print: 50,000, weekly digital: 20,000)
National Post: 31,000 (6/7 day print: 19,000, weekly digital: 12,000)
Winnipeg:
Winnipeg Free Press: 420,000 (6/7 day print: 363,000, weekly digital: 158,000)
Winnipeg Sun: 277,000 (6/7day print: 246,000, weekly digital: 79,000)
Metro: 215,000 (5 day print: 209,000, weekly digital: 18,000)
Globe and Mail: 104,000 (6/7 day print: 61,000, weekly digital: 60,000)
Tags: NADbank