Assassin's Creed starts a turf war
After a fan took a photo of an OOH execution for the campaign, gamers went wild on social media. Bell Media Mix shares some results.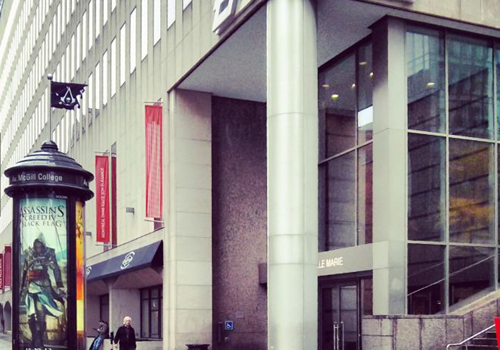 The fourth installment of Ubisoft's Assassin's Creed ventures into unfamiliar territory – the world of pirates. So what better way to enter that space than by staking claim to a little piece of enemy territory.
From October to early November, a campaign promoting the latest edition of the game, Black Flag, ran in Montreal and Toronto, with the digital, TV and OOH components arranged by Bell Media Mix and ZenithOptimedia. In Toronto, bus shelters were made to  look like pirate ships, but one of the most popular executions was a "flag stunt" in Montreal, in which a mega-column poster situated in front of the EA Games offices – Ubisoft's main competitor – donned the Assassin's flag billowing on top.
"The flag stunt was put forward to take ownership of the city, claim the territory, get in a bit of a turf war, as pirates would do, and create buzz," says David-Alexandre Durocher, group manager at Bell Media Mix.
It worked. A fan posted a picture of the stunt online and the response was "massive" Durocher tells MiC, attracting posts from Colombia to Russia. There were more than 290,000 page views on Imgur.com; about 375 comments on Reddit.com; 3,575 shares on 9gag.com; and more than 1,160 likes on Cheezburger Network.
On the TV front, to reach the male 18-to-34 demo, ads were placed on Teletoon La Nuit/At Night, MusiquePlus, and Ztélé. Thirty-second spots were integrated into Teletoon's Slaque La Cravate Avec Mat, starring host Mathieu Cyr, who broadcasted live from Ubisoft's Montreal offices as he interviewed game developers.
The English segment on Teletoon's Fred@night was used on the Ubisoft Canada Facebook page to promote a special contest, which reached the 380,000 fans of Ubisoft Canada.