Evergreen gets its hands dirty
The environmental organization hosted its first pop-up event and is growing its digital presence as it shifts strategy to drive engagement around its cause.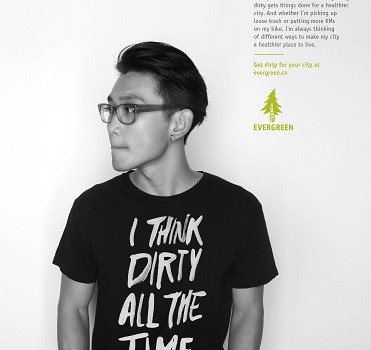 Environmental non-profit Evergreen is urging Canadians to get a little dirty to help build better cities with its new light-hearted "Get Dirty" campaign.
The initiative marks a big departure from the organization's previous efforts, which have been more traditional PSAs aimed at raising environmental awareness as opposed to calls to action, says Lea Anne Armstrong, creative director, Evergreen.
She adds that this shift in strategy was necessary for Evergreen to start a conversation among Canadians as the organization looks to drive greater engagement around its cause, as well as registration for its newsletter or volunteer programs.
With media handled in-house by Evergreen and creative by new AOR Open, the campaign is targeted at families. It soft launched last month with a test pop-up event at Toronto's Evergreen Brick Works that urged passersby to speak their minds about environmental issues, get their pictures taken while wearing shirts with cheeky slogans like "I'm dirty" and "I think dirty all the time" and share them through social media.
Now, Evergreen is launching the campaign nationally with print buys in The Grid and Canadian Gardening, as well as buys on the digital platforms for the publications. The ads feature similar slogans to the shirts.
While the current spend behind the campaign is still modest, Armstrong says it will roll out more heavily in 2014 starting around Earth Day in April as Evergreen looks to grow its grassroots strategy while also working with larger media partners.
Going forward, she says digital will have a large role to play in the future of the campaign, because it will allow Evergreen to drive people directly to the necessary tools and resources they need to get involved, but adds that TV buys are also likely to be part of the organization's strategy.
Including the soft launch event, Armstrong says the campaign so far has seen about 700 people sign up for Evergreen's newsletter.
The campaign will be in market for the next four weeks, before re-launching from April to June next year.