Glam Media Canada partners with LaineyGossip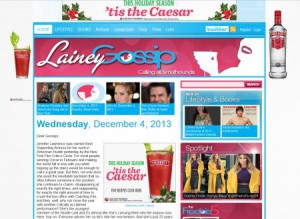 Glam Media Canada has announced it is the exclusive integrated sales partner for entertainment and celebrity blog LaineyGossip.com.
The site, which was founded by Elaine Lui, who also works on CTV's eTalk and The Social, gets around 140,000 unique monthly visitors in Canada per month, according to comScore numbers for September provided by Glam Media Canada.
Advertising opportunities available through the partnership will include traditional online ad units as well as custom sponsorships and posts on the site. According to a Glam Media Canada representative the deal builds out the company's entertainment vertical, giving it the size to compete with its larger family and style verticals.
Tags: Glam Media Canada, LaineyGossip