Graham Moysey takes top Digi Awards prize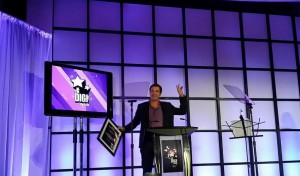 Last night the 2013 Digi Awards were handed out at The Carlu in Toronto, with AOL's recently promoted head of international Graham Moysey taking the nextMedia Global Award of Excellence.
Also taking big prizes home at the show were social media search company Wajam, which allows users to customize search results based on what their friends have posted on the topic; comic book company Arcana Studios, which won Most Promising Company of the Year and Shahrzad Rafati, CEO of BroadbandTV Corp., who won Executive of the Year.
The award for Best in Branded Entertainment went to Grip Limited and Labatt's Kokanee for The Movie out Here, which recently also took home prizes at the Canadian Marketing Awards.
Secret Location took two awards, one for Best in Cross-Platform Fiction for "Continuum Interactive" and the second for Best in Cross-Platform Kids for  "The Next Step Interactive."
Also taking home two awards was Jam3, one for Best in Cross-Platform Non-Fiction for "The Defector" for work in partnership with Fathom Film Group and the other for Best in Interactive Advertising for "Skittles Holiday Video Mashup."
Best in Mobility went to Blue Ant Media's Travel + Escape Magazine.
Also taking home Digi Awards were:
- Digital Personality of the Year: Andrew "Gunnarolla" Gunadie
- Graduate of the Year: Nick Pagee (New Media, Ryerson University)
- Best in Canadian Culture: "McLaren's Workshop," National Film Board of Canada
- Best in E-Learning: "Bombardier Manufacturing System Fundamentals," Ellicom
- Best in Mobile Gaming "Jewel Quest," Hibernum Créations
- Best in Online Gaming: "Le Judas," Couzin Films
- Best in Web Series Fiction: "Le Judas," Couzin Films
- Best in Web Series Non-Fiction: "Burgundy Jazz," Catbird Productions Inc.
Tags: 2013 Digi Awards, AOL, AOL Canada, Arcana Studios, BroadbandTV Corp, Digi Awards, Graham Moysey, Grip Limited, Jam3, Kokanee, Secret Location, Shahrzad Rafati, Wajam