Spotted! Jack Daniel's builds a barrel tree
The Brown Forman brand is celebrating the holidays with a giant structure outside the offices of its AOR, The Hive, in Toronto.
Jack Daniel's AOR in Canada, The Hive, is taking a different route to decorating for the holidays this year, placing a Holiday Barrel Tree in front of its downtown Toronto offices on King St. West.
The tree stands 23-feet tall and is made up of 40 (empty) Jack Daniel's whisky barrels, each 36 inches tall and 22 inches wide at its center.
Rick Shaver, VP of client services, The Hive, tells MiC the tree was first built in Lynchburg, Tennessee, where Jack Daniel's is made and came to Toronto this year after the agency's office manager suggested swapping out its regular tree for the barrel creation. A Brown Forman (JD's distributor) representative at the lighting of the barrel tree said this is the first time it has been displayed in Canada.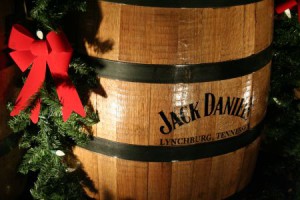 Shaver says the team at The Hive learned a lot when building the barrel tree, one key takeaway was the land the agency stands on isn't as flat as they thought it was, so a platform was built to support the heavy structure. He adds the plan is to store the barrel tree indoors over the less-festive months and bring it out again to celebrate the holidays next year.
Jack Daniel's is also promoting a new product, its Winter Jack, with TV spots throughout December, says Shaver. The commercial, which features the barrel tree in Tennessee is running with a national TV buy on conventional channels.