Bridgestone NHL Winter Classic draws record numbers
The hockey game brought in 3.57 million viewers, the most-ever for a non-playoff NHL game in Canada.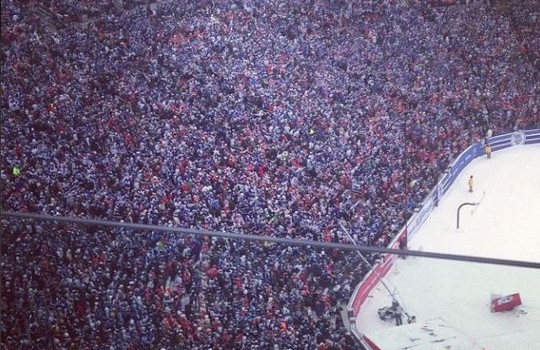 A record numbers of Canadians watched the 2014 Bridgestone NHL Winter Classic on CBC last week, with 3.57 million tuning in to see the Toronto Maple Leafs beat the Detroit Red Wings in a shootout at Michigan Stadium in front of about 110,000 fans.
The game brought in the most viewers ever for an outdoor NHL game on CBC's Hockey Night in Canada, as well as the largest audience ever for a non-playoff professional game in Canadian broadcast history.
According to overnight (2+) numbers from BBM Canada provided by the CBC, the Winter Classic game beat the next-highest regular season audience for CBC's Hockey Night in Canada by 7.6%, for a game between Toronto and the Montreal Canadiens last year on Jan. 19, 2013.
Viewers for the game peaked at 5.3 million at 4:48 p.m. during the start of the third round of the shootout, according to a CBC release. Numbers for the game beat the next highest rated Winter Classic match-up (between the Pittsburgh Penguins and Washington Capitals at Heinz Field in Pittsburgh on Jan. 1, 2011) by 87%.
Online traffic for the CBC was also up versus the last Winter Classic, which aired on Jan. 2, 2013. This included a boost of 123% in streams initiated during the game and a 92% jump in average viewing time versus last year's game. Traffic to CBC.ca/sports saw 234% more page views and 519% more unique visitors to the site versus the game last year.
Photo courtesy of Matthew Logue, partner and VP of strategy, S&E Sponsorship Group