Canada's History names new publisher
Melony Ward joins the magazine from Azure and Designlines as the publication aims to leverage multiple historic anniversaries.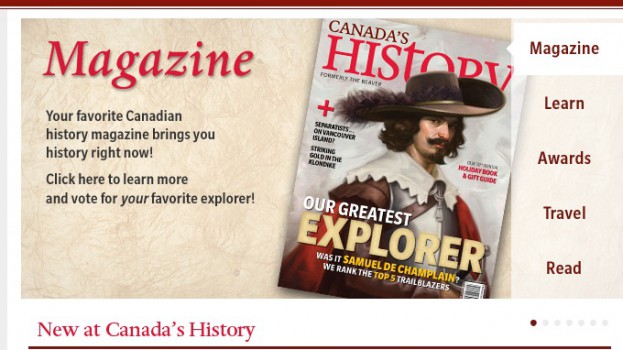 Canada's History has named a new publisher, Melony Ward, who will join the organization effective Feb. 1 to oversee advertising sales, circulation and marketing for Canada's History and Kayak magazines, and CanadasHistory.ca.
Deborah Morrison, president and CEO, Canada's History, tells MiC that Ward, most recently executive publisher of Azure and Designlines magazines, was selected for the position due to her experience in the design and culture publishing realm. Morrison says they were particularly impressed by her tenure as publisher and executive director of Canadian Art from 2000 to 2011, another Canadian magazine also run by a not-for-profit. "Someone who understood that dynamic, and how mission-driven publishing is a little bit different, was important for us," said Morrison.
Morrison says Ward's role will be to lead the magazine and take advantage of the next five years – when Canada will mark a number of major historical anniversaries including the First World War, Second World War, Confederation, women's suffrage and the Korean War – to reach broader audiences and new advertisers. "As we go into the next five years, which is nothing but a Canadian history marathon, we wanted to position ourselves so that Canada's History could capitalize on those opportunities in the short term but also hopefully cultivate some long-term relationships with new advertisers," said Morrison.
Paid circulation of Canada's History stands at 32,000 with a PMB-measured reach of 925,000, about 25 readers per copy.
The growth of its online offerings has seen the overall audience demographic skew a little younger, says Morrison, though the print magazine remains targeted at a more mature audience. Citing PMB data, Morrison says the fastest growing audience is among adults 30 to 45 who are parents with young children. The magazine's average reader is about 57 years old, she says, down from 60+ when she started.
As a charity-run magazine, a large chunk of its revenues come from sponsorships and other partnerships, says Morrison. Canada's History only brings in between $70,000 to $100,000 in print ad sales,  focusing on categories like financial and the growing category Morrison calls "collectibles" – the Royal Canadian Mint and other groups selling commemorative coins, stamps and memorabilia. However, digital ad sales are growing thanks to expanded capabilities to run multi-platform campaigns developed over the past five years, she says. Morrison says digital ad sales now pull in about the equivalent of 70% of print ad sales.
One area of growth, says Morrison, has been the new Destinations travel and tourism section on the website, launched in 2013, which has attracted new advertisers and sponsors in the travel category. Canada's History has partnered with a travel agency to launch a series of branded tours to European battlefields. "What we really want to point out is that history is part of everybody's travel all the time. Our readers are – we know that from PMB – people that travel all the time," says Morrison. "We're really concentrating on that category. I think we're going to find that more and more [travelling to historic places] is something that Canadians commit to doing."