StackAdapt to launch in early February
New technology from Toronto start-up Collective Roll puts native advertising in real-time bidding exchange market.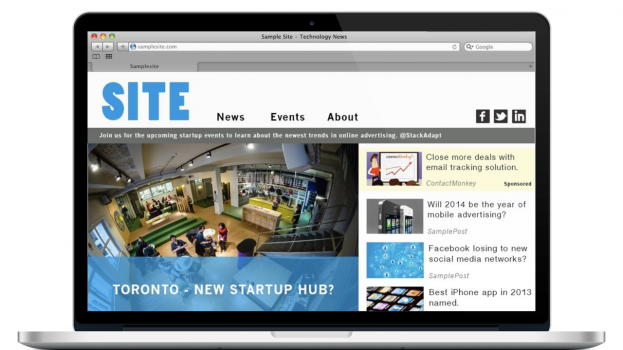 StackAdapt, a new native advertising real-time-bidding platform, has moved up its launch to early February. In a couple of weeks Collective Roll, the Toronto-based start-up that built the technology, will release the service from the private testing beta phase and invite publishers and media buyers from across North America like WPP, Omnicom and Publicis to access the technology that the developers say puts scalable content marketing inventory on a real-time bidding market for the first time.
Ildar Shar, co-founder, Collective Roll, tells MiC that with CPMs falling and audiences shifting to mobile, where CPMs are even lower – mobile CPM at $0.75 versus the average desktop CPM at $3 to $3.50, he says – native content marketing is a win-win for publishers and advertisers because it adds value to both parties.
"We're strong believers in content marketing as a whole, it's at the perfect intersection of bringing value to the users, and actually bringing some financial benefit to the publisher," says Shar. "Publishers are looking to monetize, and in my opinion, native advertising is the solution, especially for mobile."
Shar says that the traditional "network" advertising model overcharges advertisers because prices are set based on relationships between networks as opposed to supply and demand, something real-time bidding solves.
StackAdapt's business model is based on collecting a bid reduction fee on all transactions made on the platform. Shar says the commission will start off at 20% – for every $1 spent by advertisers, publishers will see $0.80 and StackAdapt will see $0.20 – a rate Shar says is competitive with other RTB services, but the company may reduce the fees to 15% in the future. "We'll experiment with pricing to find the sweet spot for publishers, advertisers and StackAdapt," says Shar.
Like other RTB services, StackAdapt will allow media buyers to set parameters in terms of the audience they want to reach. Publishers will be able to set minimum bid prices and have the ability to audit ads to approve or disapprove content.
The service was originally slated for a March release, but Shar, along with co-founders Vitaly Pecherskiy and Yang Han cut down the development time by choosing to focus on contextual targeting, opting to add behavioural and semantic targeting at a later date.
Shar and his co-founders are betting that this is the future of digital advertising because it solves the problem of audiences avoiding ads by making ads into something that people want to look at.
"When you see the banner ad, you probably don't click on it, when you see the pre-roll you skip it, when you see the TV ad you flip the channel, so basically you're adapting your media habits around avoiding all those messages and content marketing is completely different which is basically brining something valuable to users. We want to solve that fundamental problem."
"Our goal for the ecosystem in the next few years is to make an ad so useful that the user doesn't really care that it's an ad," says Shar. "It has to benefit them in one way or another."