App-etite: Qriket
The app, which is currently working with 50 Canadian companies, tracks and shares 40% of its revenue from advertisers with its users, with clients paying when consumers opt-in rather than for impressions.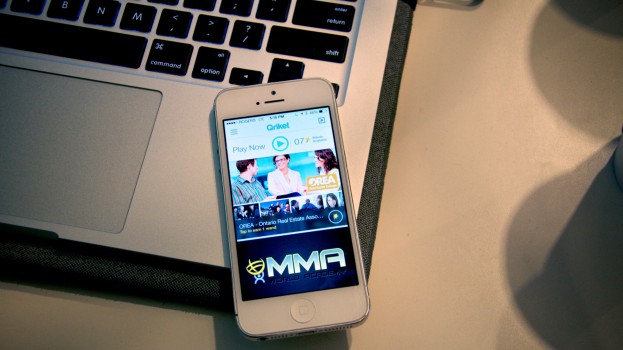 When it comes to Qriket, everyone wants and everyone gets a piece of the revenue pie. That's because every one of the mobile application's 150,000-person user base is, essentially, a partner. And those partners, in return for their time and engagement, get 40% of the total revenue the app makes from advertisers.
By scanning and clicking on two-for-one deals, coupons and 30-second ads from local businesses in the app's home feed, the user receives what Qriket calls a "wand." Those wands are then used as a currency, with users exchanging them in return for a spin of a virtual wheel. By spinning the two-coloured wheel, they're put in the hat for the chance to win between five cents and $500 (with the latter being less frequent).
MiC spent 10 minutes interacting with ads from a local Indian restaurant, day spa and mixed martial arts training centre, and managed to bank $1.20 on the app. A leaderboard shows how one user has racked up $2,719. 28 since joining (Qriket has rewarded more than $1.4 million to users within the past four years), and Jonny Comparelli, the 22-year-old university drop-out who thought up the idea for the cash reward app with two other friends, jokes that one person has emailed him saying they use the cash to pay rent each month.
Advertisers don't pay for impressions, he says, rather they pay for user opt-ins. So if a person decides to accept a coupon (not just click) from a brand and have it sent to them via email, then the advertiser will pay a fee from between 25 cents and $2. Regardless of how the user answers to an offer, they still receive a wand, which means an advertiser is only paying for those who are genuinely interested in receiving the deal. Brands can pay for those who say "yes" to an offer up until a certain amount, with Comparelli noting that some clients will spend $50 while more high-profile brands have spent closer to $500,000 on the platform. He adds that redemption rates are between 10% and 30%.
"The initial idea was to gamify the consumption of media, and to provide advertisers an alternative [method of reaching audiences] at a hyper local level," says Comparelli, looking back at when the app first launched in 2011, when Qriket used two-dimensional QR codes as a bridge for people to use the app. People could scan a code on a participating brand's print or OOH ad and then earn wands to spin for cash. While Qriket no longer relies on QR codes as a way to use the app, it does plan to incorporate  two-dimensional codes on purchase receipts in-store when it launches the next evolution of the app in Q3 of this year, notes Comparelli without disclosing partner brands he's currently working with.
"We [plan to] print dynamic QR codes at the bottom of the sales receipt that will then tie your purchase to your Qriket profile and reward a cash back of between 5% and 200% of the actual purchase," he says, adding that the spinning wheel on the app can also be branded for that particular retailer or brand.
Qriket currently works with 50 local businesses in Toronto, including Medieval Times, Hertz and the Ontario Real Estate Association, and has recently opened up an office in New York in preparation for its future 50 city expansion in the US within the next two years. "In September 2011, we had 150 users, which doubled every 26 days. We were getting users from Singapore, England, Russia, Ukraine. We were attracting users from markets we had no knowledge of, but the problem was we couldn't monetise those markets," adds Comparelli, noting that Qriket is now open only to Canada and the US.
"We're really bringing to the table a new way of advertising, a new paradigm that gets users involved in sharing the revenue that's being generated," he adds, "and that creates a really good bond between the brand and the users on the platform."