Chart Attack undergoes mobile-friendly redesign
The Channel Zero-owned indie and alternative music publication is offering standard mobile ad units for the first time.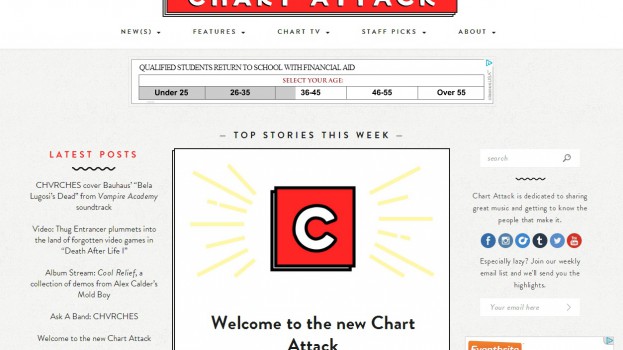 Canadian online music publication Chart Attack has undergone a mobile-friendly redesign to highlight its video content and attract new visitors and advertisers. It's the first major redesign for the indie and alternative music outlet since Channel Zero acquired the property.
Chart magazine ceased its print publication, added "Attack" to its title and continued as a strictly online outlet in 2009. Chart Attack was acquired by Andpop in 2011, which in turn was acquired by Channel Zero in June 2013.
Robert Ostfield, managing director, Channel Zero Digital, tells MiC that before the redesign, about 35% of the audience was accessing the site on a mobile device, the majority using iOS. With the redesign, Ostfield predicts that over half the content will be consumed on a mobile device. The updates also mean standard mobile ad units will be available on ChartAttack.com for the first time.
Currently the site draws 450,000 global visitors on a monthly average, according to Google Analytics numbers cited by Ostfield. About 80,000 to 100,000 of those visitors are from Canada, mostly from urban centres. Ostfield says the site targets and reaches a group he calls "indie-lectuals" – a niche market of young adults 18 to 34 who want to be on the cutting edge of the independent and alternative music scenes and technology, and are passionate about the topic.
Admitting that online music content is a crowded field, Ostfield says the site aims to continue attracting its share of visitors by focusing on creating short-form video content that distinguishes it from its competitors in Canada. The new mobile-friendly site should allow it to pursue a wider audience for content integration deals for its videos with partners, like campaigns it has done with Steamwhistle and Deezer in the past, he says.