Third quarter sees programmatic boost: report
Media Experts has released its latest quarterly report on the state of the RTB nation, saying talk about programmatic will turn to TV buying this year.
Media Experts has released its Q4-2013 Quarterly Report on the Canadian Programmatic Trading Market, with Canada rising from its position as sixth largest RTB market worldwide at the start of 2013 to number five in Q3 and dropping down to number seven at year's end. The report says RTB is increasingly being used by major brands in Canada, with 2014 being the year talk will turn towards use in the traditional TV ad marketplace.
The report, which uses information from New York-based Accordant Media and Toronto's Casale Media, says Q4 was characterized by an 11% drop in available inventory compared with Q3, but posted a 21% increase over the same period in 2012. Average CPMs were up 6% against Q3, but were down 20% versus the same period in 2012, due to a healthy increase in available inventory through 2013 and more impressions through Facebook and mobile. Also up for the quarter versus Q3 was the click-through rate, which grew 12%.
Automotive advertisers were the most active on programmatic during the fourth quarter, fueled by year-end sales at dealerships. Apart from car cos, the other major categories all trended downward after a more active Q3.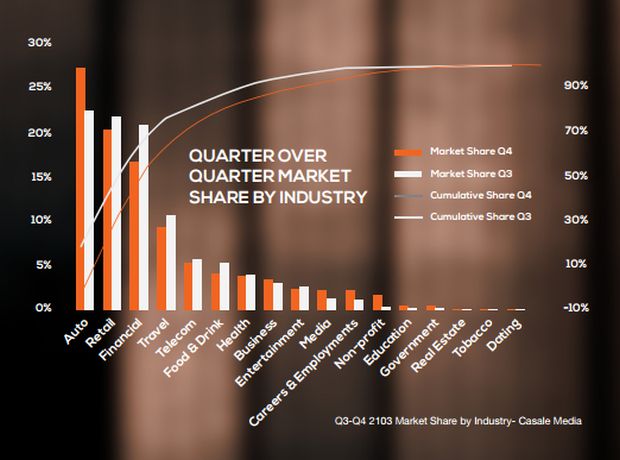 Overall Canadian RTB auctions grew 21% in 2013 versus 2012, which the report attributes to additional impressions being made available for auction by publishers across display, mobile, video and audio platforms.
When it comes to mobile, programmatic has been rising faster on iOS (from just under 28% of mobile programmatic volume at the start of the year to 61% in Q4) than Android. Coming with that growth are worries from marketers on how to track and report on these Apple devices if they can't be "cookied."
Canadian programmatic shifted away from more traditional ad units, such as banners, towards non-standard units due to the rise in inventory on mobile, video and Facebook. At the start of 2013, non-standard units accounted for just under 7% of impressions on programmatic and by year's end that number rose to nearly 17%. The most popular of the non-standard ad units was the 320 x 50 mobile unit, followed by the 1 x 1 pixel unit, which was driven largely by growth in Facebook inventory.
Mobile image courtesy of Shutterstock