Red Bull TV glides onto Xbox 360
Expanded live programming will be featured on the new Red Bull TV app, including the Air Race World Championship Series in Abu Dhabi on March 3.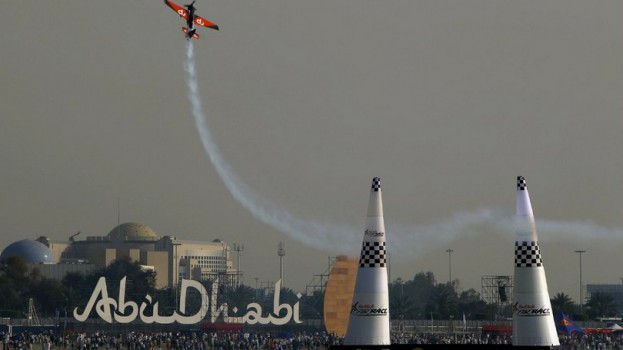 Red Bull Media House, which produces documentaries, films, and sports and lifestyle programming, is now distributing its content through Xbox 360 via the Red Bull TV app, which launched Tuesday.
Many of the shows streamed on Red Bull TV  focus on high-adrenaline sports and competitions that the energy drink brand hosts or sponsors, as well as the athletes that compete in them. These include docu-style series such as Life Behind Bars, a show that follows mountain biker Brandon Semenuk (season three premieres March 11). Live programming is also a big part of Red Bull TV, and it's going to have prominence in the network's 2014 slate.
This year it's bringing back the Red Bull Air Race (pictured) after a three-year hiatus, covering the World Championship Series taking place in Abu Dhabi next week. Other live events include the Red Bull Crashed Ice: Moscow (ice cross downhill skating); Red Bull Rampage (freeride mountain bike competition in Utah); as well as third-party events such as the 2014 UCI Moutainbike World Cup.
Pre-roll ads will be hosted on the Xbox 360 app, sold and served by Microsoft. Revenue is also earned by Red Bull Media House by licensing the content it produces.
The Xbox app is available in 49 markets where Xbox Live is available, and it's free for Gold members. Red Bull TV content was recently also made available for free on Apple TV, Chromecast and select Smart TVs.
https://www.youtube.com/watch?v=Z0upprLwGY4&feature=youtu.be
From Stream Daily