Saving Hope wraps second season on high note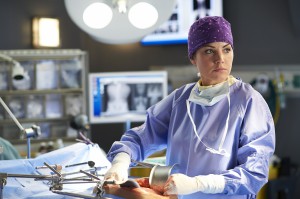 The second-season finale of Saving Hope, CTV's original medical drama, won its timeslot on Thursday after pulling in 1.4 million viewers, according to overnight ratings released by Bell Media on Friday.
The second season of Saving Hope was split into two, with the second half of the season returning on Jan. 2. The show also shifted time slots for the winter season, from Tuesdays at 10 p.m. to the plum Thursdays 9 p.m. previously occupied by Grey's Anatomy.
The drama averaged 1.6 million viewers per episode (final data) throughout the second half of its second season. The second season's second finale was up 24% nationally over the first. (All data: BBM Canada.)
Saving Hope also received more than 3,000 Twitter mentions in the 24 hours leading up to the season two finale, CTV announced in a release, adding that the tweets had an estimated reach of 5.5 million.
CTV has ordered a third season of Saving Hope for the 2014-2015 broadcast season.
From Playback Daily
Tags: Bell Media, ctv, Saving Hope