The Globe and Mail to launch daily video series
The title has updated its homepage, adding an emphasis on the website's visual elements one month out from the launch of its daily video show Globe Now.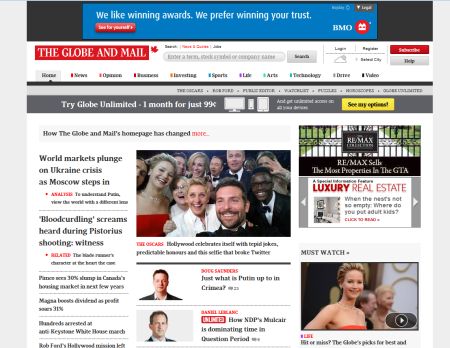 The Globe and Mail has unveiled a refreshed homepage, increasing the focus on photography and video one month out from the early April launch of the paper's daily video show, called Globe Now.
Angus Frame, VP of digital media at the Globe and Mail, tells MiC the refresh also includes a new "In the Know" bar, which highlights stories that cover "unexpected" subjects that have value to advertisers and connecting those to readers at the top of the homepage.
Looking ahead to April's launch, Globe Now will target readers aged 25 to 34 and live in front of the paywall. That target is slightly younger than the 42-year-old average age of the Globe's online readers. Each weekday there will be a new six- to eight-minute long Globe Now video that will be split into three segments and highlight the day's top news stories with pre-, mid- and post-roll advertising options, says Cynthia Young, director of digital advertising products and innovation at the Globe and Mail.
The ability to run videos in those three positions is new to the Globe, says Young, adding Lexus has sponsorship around the series for the first three months after launch.
"Globe Now is the next natural step of our video strategy," says Frame. "We saw people responding to videos on the site really well and we wanted to up our commitment to that format. That daily appointment viewing we think we can create with Globe Now is an example of that."