Acer partners with Blue Jays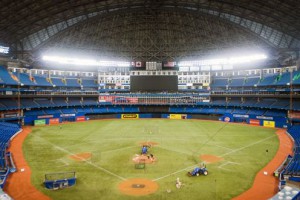 Acer Canada has partnered with the Toronto Blue Jays as the official laptop and tablet sponsor of the team for the 2014 season.
Terry Tomecek, general manager, Acer Canada, tells MiC that compared to other sports opportunities in the country, partnering with the Blue Jays offered the best value with its national reach, especially among the team's growing young fan base, to connect with the tech manufacturer's target customers: 18- to 35-year-olds, specifically young families and students going back to school. The Blue Jays garner the most unique in-game visitors of any sport franchise in Canada with attendance rising almost 50% from four years ago to last season, according to independent and Blue Jays research cited by Tomecek.
The brand will activate through a double outfield wall position, digital signage and an in-game giveaway promotion. Acer will also sponsor the Pitch Tracker window on the Sportsnet TV broadcast for the first half of the season.
The deal is Acer Canada's first sponsorship of a sports franchise, though the brand's global entity had sponsored the 2010 and 2012 Olympic Games.
Tomecek says that the media budget for the brand is being diverted away from radio and digital display ads and moved towards the sponsorship, though some radio and display will remain as part of the spend. Acer will also continue its in-store advertising efforts with its retail partners as well as OOH in the form of a billboard facing the Gardiner Expressway in Toronto, he says.
Image courtesy of Joyce Vincent / Shutterstock.com
Tags: Acer Canada, Sportsnet, Terry Tomecek, Toronto Blue Jays